Militant Irish Monthly, No. 77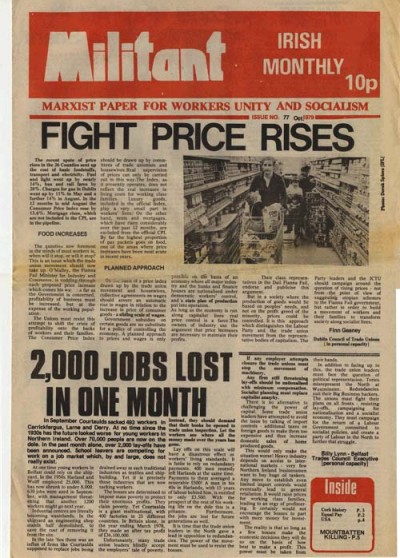 Date:
October 1979
Organisation:

Militant

Publication:

Militant Irish Monthly

Issue:
Number

77

Dermot Connolly

,

Ciaran Crossey

,

Pat Duggan

,

Finn Geaney

,

Peter Hadden

,

Tom Healy

,

Joe Higgins

,

Billy Lynn

,

Vivien Seal

,

Pat Smyth

,

Dennis Tourish

,

John Vaughan

View:
View Document
Discuss:
Comments on this document
Subjects:
 
Please note:  The Irish Left Archive is provided as a non-commercial historical resource, open to all, and has reproduced this document as an accessible digital reference. Copyright remains with its original authors. If used on other sites, we would appreciate a link back and reference to The Irish Left Archive, in addition to the original creators. For re-publication, commercial, or other uses, please contact the original owners. If documents provided to The Irish Left Archive have been created for or added to other online archives, please inform us so sources can be credited.
Commentary From The Cedar Lounge Revolution
6th May 2008
This issue of Militant from October 1979 provides an interesting contrast with the previous one  posted in the Archive. The concentration on economic issues is more marked. Granted the previous issue which appeared in 1972 was specifically a special Irish edition, but the tone is significantly different. The conflict had, of course, become entrenched. Many players had left the field, and perhaps the sense that there might be rapid (or revolutionary) change had finally dissipated.
That said it is a little jarring to read an editorial about the British Labour Party conference. That this was close to the heart of the 'Marxists' (aka Militant) is undeniable. But, it indicates a certain focus unlike, arguably, any other formation on the Irish left during this period. That it is followed by a further editorial about Sile De Valera is only odd if one doesn't recognise it for the full frontal attack on Fianna Fáil. That said, there is a certain quaintness about the language which talks of 'cynical attempt to pretend to young people who desire to change society, that Fianna Fáil represents their interests). The 'young' people. Always something of a disappointment…
Joe Higgins writes about the traditions of Labour in Cork. We read about the Pope, and how 'the money spent on [his visit to Ireland] is a pittance in relation to the overall wealth of the Vatican'. We learn that polling in the North indicated a reservoir of support for an 'intervention' by the Labour movement and hostility towards the traditional parties - who almost inconceivably some thirty years later remain dominant. Who would have guessed? A crisis in the USA, 'Mass Politics, Not Individual Terror' on the North, a letter about the unionisation of McDonalds, and bevy of Letters on union matters… It's strange how nothing has changed and yet everything has changed. And, of course, no mention of another rival on the left, Official Sinn Féin,. Indeed no mention of any other left forces beyond Labour and the Trade Unions.
As ever with Militant it is worth noting the strong visual presentation of the paper. There is a professionalism here (although in fairness to OSF, they were pretty good at that too) and the paper is used to push a coherent and consistent message. One may question some of those messages, although not their sincerity. Impressive.
More from Militant Irish Monthly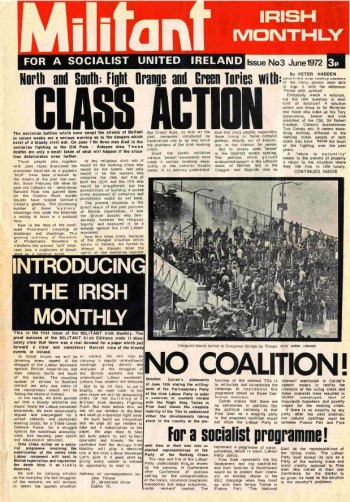 Militant Irish Monthly in the archive
---