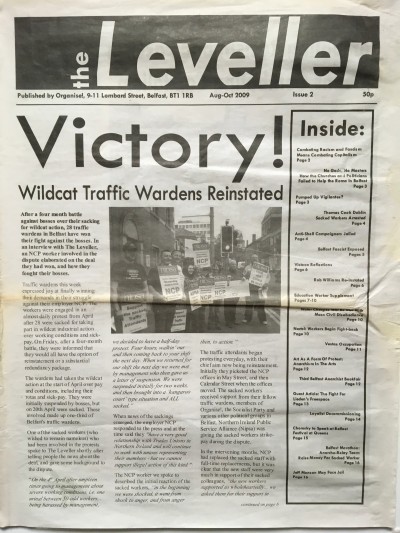 Please note:  The Irish Left Archive is provided as a non-commercial historical resource, open to all, and has reproduced this document as an accessible digital reference. Copyright remains with its original authors. If used on other sites, we would appreciate a link back and reference to The Irish Left Archive, in addition to the original creators. For re-publication, commercial, or other uses, please contact the original owners. If documents provided to The Irish Left Archive have been created for or added to other online archives, please inform us so sources can be credited.
Commentary From The Cedar Lounge Revolution
15th October 2018
This is a welcome addition to the Archive, the publication of Organise! Many thanks to Sam M for forwarding it to the Archive – part of a tranche of similar materials.
As noted previously in the Archive:
Organise! is an anarchist group based in Belfast and a local of the UK Solidarity Federation. It took its current form in 2003 as a merger between the Anarchist Federation in Ireland, the Anarcho-Syndicalist Federation and other small groups and individuals. The Organise! bulletin had been published by the Ballymena and Antrim Anarchist Group since 1986 and in 1992, they created the Organise! group. When this was dissolved in 1999, the Syndicalist Solidarity Network was formed, which later became Organise! Anarcho-Syndicalist Federation. Organise! currently issues a local bulletin called The Leveller. The Solidarity Federation is affiliated with the International Workers' Association.
The Leveller is an ambitious publication, sixteen pages long and in tabloid format. There's a wide-range of articles, with an understandable focus on Northern Ireland. So the lead article is one on 'wildcat traffic wardens reinstated'. Other subjects addressed include 'combatting racism and fascism means combatting capitalism', a response to a piece in Fortnight magazine which 'accused anti-racist activists of being pumped up vigilantes whose actions were counter-productive'.
Another piece addresses the occupation by Thomas Cook workers of their workplaces in Dublin. There's another piece on fascists in the North and a four page supplement on Education Worker News which examines planned redundancies at QUB.
More from Organise! (Solidarity Federation)
Organise! (Solidarity Federation) in the archive
---