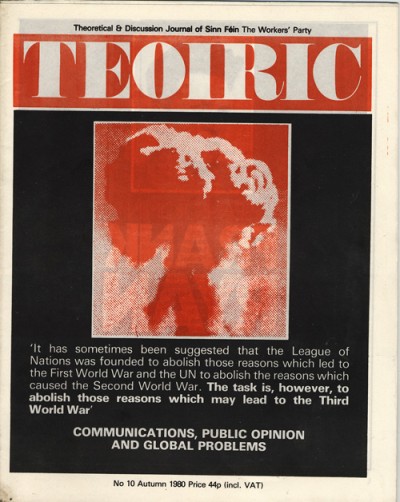 Please note:  The Irish Left Archive is provided as a non-commercial historical resource, open to all, and has reproduced this document as an accessible digital reference. Copyright remains with its original authors. If used on other sites, we would appreciate a link back and reference to The Irish Left Archive, in addition to the original creators. For re-publication, commercial, or other uses, please contact the original owners. If documents provided to The Irish Left Archive have been created for or added to other online archives, please inform us so sources can be credited.
Commentary From The Cedar Lounge Revolution
28th January 2008
Seeing as the last Left Archive piece  has inspired a lively and - I think - illuminating debate about the legacy and policies of OSF/WP it is probably suitable to have a Workers' Party piece this week. Fear not, there's a host of other material out there. If you're concerned that it's too WP oriented, well, send other material to our email address. But, for the moment we'll work with what we've got.
So, here, in all its glory is Teoiric, the Theoretical and Discussion Journal of SFWP. It's an interesting document with a broad array of articles framed within the iconic image of the 1980s, the mushroom cloud.
Inside we see an array of familiar names, from the indefatigable Henry Patterson discussing Loyalism with, shall we say, a slightly BICO esque twist to his thoughts, a fascinating article on Terrorism and the Bourgeoisie which has a very telling introduction. Eamonn Smullen is here to discuss "Intellectuals and the Working Class" and we also have an article about the then contemporary issue of Poland.
The dual article on Honouring Wolfe Tone provides an interesting apologia for why SFWP wasn't promoting a return to Stormont rule… Read it and judge for yourselves.
In a way it's a tad predictable but it's literate, well produced and locks straight into a discourse that would be continued in the Workers' Party days where an alignment with currently existing Marxism was very much the order of the day. And the design is very much of a piece with Making Sense which was to come later.
Mind you, reading Comment at the front of the journal it's hard not to see a further resonance with today…
1980 has been a great year for war-mongers. Events in Afghanistan and Iran have been exploited to the full by the enemies of detente….
History shifts forward in repetitive movements, doesn't it? If the resolution is a bit low please tell me.
More from Teoiric
---