Communist Comment, No. 17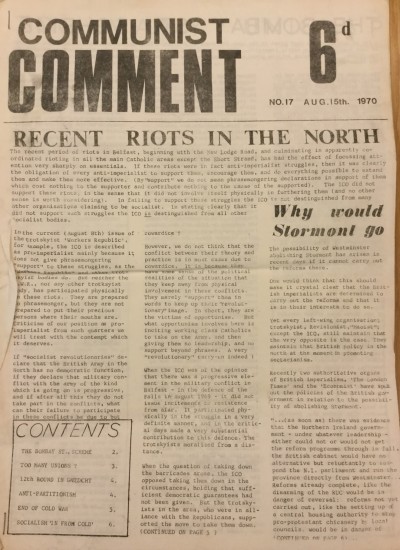 Please note:  The Irish Left Archive is provided as a non-commercial historical resource, open to all, and has reproduced this document as an accessible digital reference. Copyright remains with its original authors. If used on other sites, we would appreciate a link back and reference to The Irish Left Archive, in addition to the original creators. For re-publication, commercial, or other uses, please contact the original owners. If documents provided to The Irish Left Archive have been created for or added to other online archives, please inform us so sources can be credited.
Commentary From The Cedar Lounge Revolution
1st January 2018
Many thanks to the person who forwarded this to the Archive.
This publication, issued by ICO in late 1970 engages with the 'Recent Riots in the North'. It argues that the ICO does not support 'these struggles'. It continues:
When the ICO was of the opinion that there was a progressive element in the military conflict in Belfast – in the defence of the Falls in August 1969 – it did not issue incitements to resistance from afar. It participated physically in the struggle in a very definite manner, and in the critical days made a very substantial contribution to this defence. The trotskyists moralised from a distance.

The reason why the ICO has not supported conflicts with the Army, is because of the central position of the Catholic/Protestant contradiction in these conflicts. We have explained our view of this contradiction in detail over the past year. It has been disagreed with but it has never been refuted.
There are a number of articles, one on the rebuilding of Bombay Street, another arguing that there are not 'too many unions' and another on anti-partitionism.
This argues that:
The Protestant community prefers to remain within the UK than to come under a souther Catholic government. They are perfectly entitled to that preference. To deny them that right in the name of anti-imperialist, as has been done by all Catholic bodies from FF, through the Republicans, to the 'revolutionary socialists' is sheer political trickery.
There's more on 'Why The Cold War is Over' and 'Soclialism 'Comes in From the Cold'.
More from Irish Communist Organisation
Irish Communist Organisation in the archive
---