The Captive Voice / An Glór Gafa, Vol. 8, No. 3
Please note:  The Irish Left Archive is provided as a non-commercial historical resource, open to all, and has reproduced this document as an accessible digital reference. Copyright remains with its original authors. If used on other sites, we would appreciate a link back and reference to The Irish Left Archive, in addition to the original creators. For re-publication, commercial, or other uses, please contact the original owners. If documents provided to The Irish Left Archive have been created for or added to other online archives, please inform us so sources can be credited.
Commentary From The Cedar Lounge Revolution
27th December 2017
Many thanks to the person who forwarded this to the Archive.
This publication is a unique addition to the Archive. As the preface notes:
The Captive Voice/An Glór Gafa is a quarterly magazine written in its entirety by Irish Republican POWs currently being held in Ireland, England, Europe and the US. It is publish by Sinn Féin's POW Department. Irish republicans have always recognised that resistance to British misrule does not end upon their arrest. The battles to be fought and the tactics to be employed may change but the enemy remains the same.
Unsurprisingly given this is a Winter edition there is a strong focus on Christmas and prisoners. There is also a concentration on issues of interest to prisoners – extradition, and so forth. And mention is made of Antonio Gramsci and his Prison Notebooks in relation the 'politics of cultural struggle'. There's also an article with the accounts of Basque political prisoners.
More from The Captive Voice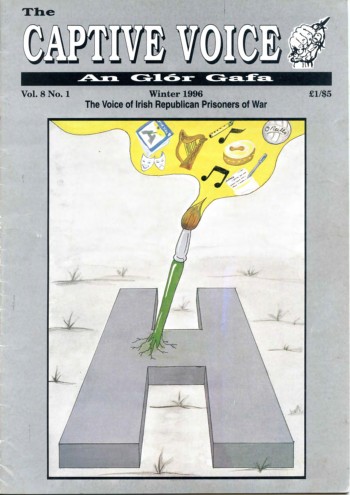 The Captive Voice in the archive
---