The Common Market: Yes or No!
The Economic and Political Implications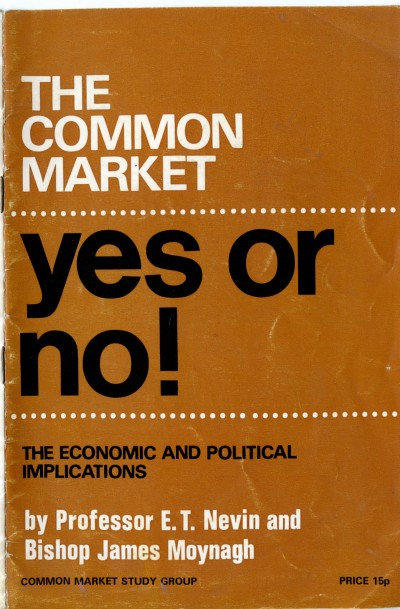 Please note:  The Irish Left Archive is provided as a non-commercial historical resource, open to all, and has reproduced this document as an accessible digital reference. Copyright remains with its original authors. If used on other sites, we would appreciate a link back and reference to The Irish Left Archive, in addition to the original creators. For re-publication, commercial, or other uses, please contact the original owners. If documents provided to The Irish Left Archive have been created for or added to other online archives, please inform us so sources can be credited.
Commentary From The Cedar Lounge Revolution
13th November 2017
Many thanks to the person who forwarded this to the Archive.
This document, co-written by Professor E.T. Nevin and Bishop James Moynagh was issued on behalf of the Common Market Study Group. It states that:
This is the fifth pamphlet on the Common Market to be published by the Common Market Study Group. If you are impressed by the pamphlet's arguments we would invite you to join the mass-membership, campaigning organisation, The Common Market Defence Campaign that has been launched by the CMSG. The Defence Campaign is working towards a 'No' vote in the referendum which will have to be held in March or April. If the people refuse to change the Constitution, as they will be asked to do in the referendum, then Ireland cannot join the EEC and the government will have to negotiate an Association Arrangement or a General Trading Agreement with the Common Market.
Dr. E.T. Nevin was professor of Economics at the University of Swansea and a former employee of the ESRI. Dr. James Moynagh was former Bishop of Calabar and Parish Priest of Annaduff. Both were profoundly antagonistic to Irish membership of the Common Market.
---