Irish Socialist Review, No. 1 1970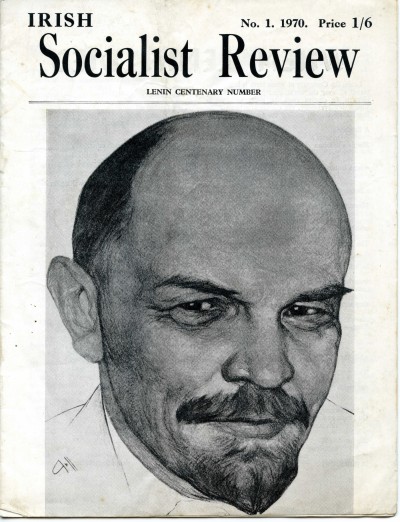 Please note:  The Irish Left Archive is provided as a non-commercial historical resource, open to all, and has reproduced this document as an accessible digital reference. Copyright remains with its original authors. If used on other sites, we would appreciate a link back and reference to The Irish Left Archive, in addition to the original creators. For re-publication, commercial, or other uses, please contact the original owners. If documents provided to The Irish Left Archive have been created for or added to other online archives, please inform us so sources can be credited.
Commentary From The Cedar Lounge Revolution
30th October 2017
Many thanks to the person who forwarded this to the Archive.
This is a fascinating document, the very first issue of Socialist Review from the Communist Party of Ireland. It promotes itself as the Lenin Centenary Edition but the editorial eschews mention of him and instead focusing on the recent unity resolution of the Irish Workers Party and the Communist Party of Northern Ireland to come together as the CPI. It argues that:
At a time when among the Left forces there is far too much in-fighting, division and quarrelling about questions not immediately essential, the Irish Communists have shown the leadership and political duty of the day by endorsing a united policy in the struggle against capitalism and imperialism.
Oddly there is no mention of the conflict in the North.
The rest of the publication contains pieces on Lenin: His Life and Achievement, On the National Question by Sam Nolan, Lenin on Ireland, How Imperialism Rules Now by A Raftery, Lenin on the rule of the People and Lenin's Kind of Party. There's also a piece by a Soviet Historian on Connolly. All told a very polished publication.
More from Irish Socialist Review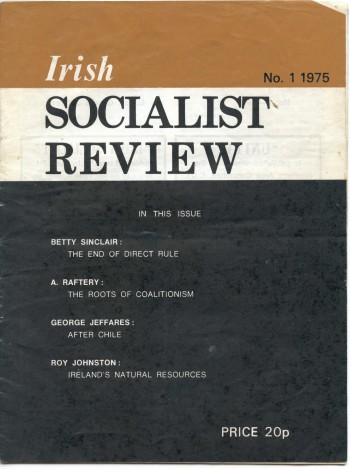 Irish Socialist Review in the archive
---