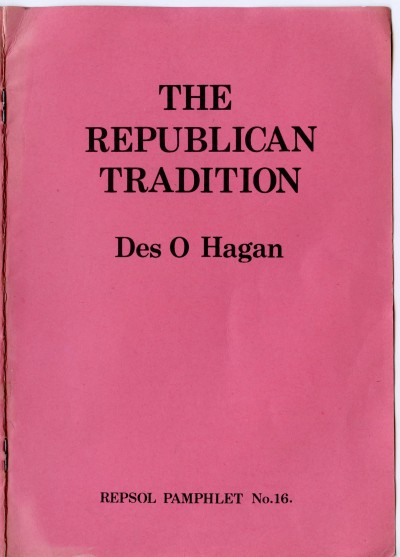 Please note: The Irish Left Archive is provided as a non-commercial historical resource, open to all, and has reproduced this document as an accessible digital reference. Copyright remains with its original authors. If used on other sites, we would appreciate a link back and reference to the Irish Left Archive, in addition to the original creators. For re-publication, commercial, or other uses, please contact the original owners. If documents provided to the Irish Left Archive have been created for or added to other online archives, please inform us so sources can be credited.
Commentary From The Cedar Lounge Revolution
23rd October 2017
Many thanks to the person who forwarded this to the Archive.
This pamphlet, issued by Official Sinn Féin, was based on a lecture delivered at the University of Bangor, Wales.
As the Introduction notes:
…he traces the development of Irish Republicanism from its founder, Wolfe Tone and the United Irishmen to the present day. Concisely, yet comprehensively, he shows clearly that Irish Republicanism is a distinct philosophy separate yet linked to all the major progressive movements elsewhere in the world.
A lot of ground in the pamphlet, with a rapid run-through of Irish history in relation to Republicanism. There is also a focus on the events from the 1960s onwards and a clear identification with the 'socialist' world.
Throughout there is a strong focus on the concept of the vanguard party.
…but this is not just to say that a vanguard party of the working class plays the key role in a National Liberation Front (though this in itself is a sine qua non). Clearly, there must be a high level of consciousness among the working class and their allies such as the peasants, small farmers and the intelligentsia as to the real nature of the enemy and the real nature of the struggle. And this is exactly why the Republican Movement is engaged in struggles on so many fronts, some of which have been indicted as reformist (e.g. Civil Rights). But what is wrong with revolutionaries leading a reformist struggle?
And:
Our practise is a recognition of the need to raise the level of consciousness throughout the country. The fact that we have taken part in electoral activity both North and South and will continue to do so (as we did in the Convention elections) is not to say that we believe that the bourgeois political institutions can bring about the revolutionary changes we demand. But it is a recognition of the fact that every opportunity for propaganda, every opportunity to present the Party programme must be seized upon.
Further he writes:
Let me on the other hand make it quite clear that the Republican Movement is not 'soft' on sectarian killers and we urge our membership to implement our standing policy of defence and retaliation in this field as in relation to the armed forces of British imperialism.
More from Repsol Pamphlets
Repsol Pamphlets in the archive
---