Workers' Solidarity Movement Stickers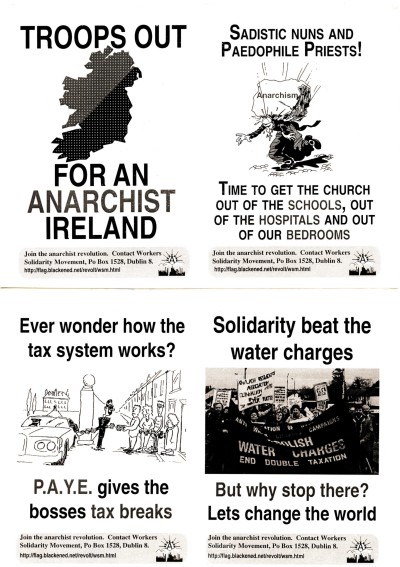 Please note:  The Irish Left Archive is provided as a non-commercial historical resource, open to all, and has reproduced this document as an accessible digital reference. Copyright remains with its original authors. If used on other sites, we would appreciate a link back and reference to The Irish Left Archive, in addition to the original creators. For re-publication, commercial, or other uses, please contact the original owners. If documents provided to The Irish Left Archive have been created for or added to other online archives, please inform us so sources can be credited.
Commentary From The Cedar Lounge Revolution
7th August 2017
This document comprises six stickers from the Workers Solidarity Movement. Many thanks to the person who forwarded them to the archive.
The stickers address a number of topics:
"Troops Out for an anarchist Ireland";
"Time to get the church out of the schools, out of the hospitals and out of our bedrooms";
"PAYE gives the bosses tax breaks";
"Solidarity beat the water charges, but why stop there?";
"Their squabbling means war for the rest of us - let's get rid of them";
and "Health Warning: Politicians - 1000 varieties, all poisonous".
More from Workers' Solidarity Movement
Workers' Solidarity Movement in the archive
---