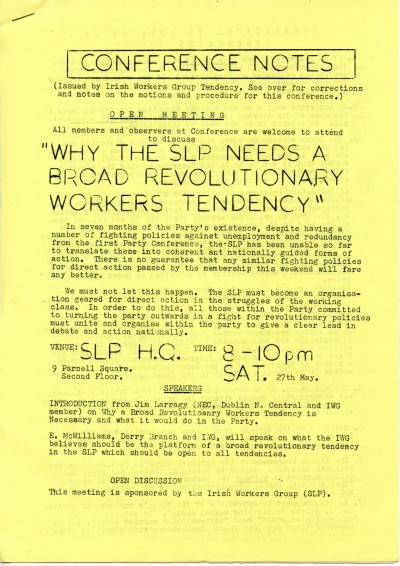 Please note: The Irish Left Archive is provided as a non-commercial historical resource, open to all, and has reproduced this document as an accessible digital reference. Copyright remains with its original authors. If used on other sites, we would appreciate a link back and reference to the Irish Left Archive, in addition to the original creators. For re-publication, commercial, or other uses, please contact the original owners. If documents provided to the Irish Left Archive have been created for or added to other online archives, please inform us so sources can be credited.
Commentary From The Cedar Lounge Revolution
31st October 2016
Thanks to Jim Monaghan for forwarding this document which includes corrections and notes on the motions and procedures for the conference.
The document is entitled "Why the SLP needs a broad revolutionary Workers Tendency" and is sponsored by the Irish Workers Group Tendency (SLP).
It notes that:
In the seven months of the Party's existence, despite having a number of fighting policies against unemployment and redundancy from the first Party Conference, the SLP has been unable so far to translate these into coherent and nationally guided forms of action. There is no guarantee that any similar fighting places for direct action passed by the membership this weekend will fare any better.
It continues:
We must not let this happen. The SLP must become an organisation geared for direct action int he struggles of the working class. In order to do this all those within the party committed to turning the party outwards in a fight for revolutionary policies must unite and organised within the party to give a clear lead in debate and action nationally.
And it advertises a meeting at SLP headquarters to be addressed by Jim Larragy and E. McWilliams of the Derry branch. Both were members of the IWGT.
The corrections are extremely comprehensive and include one relating to Derry motions on Women which it suggests were 'presented in a distorted way'. A fascinating insight into the SLP at an early stage in its development and groups within it.
---