Norwich Clann na hÉireann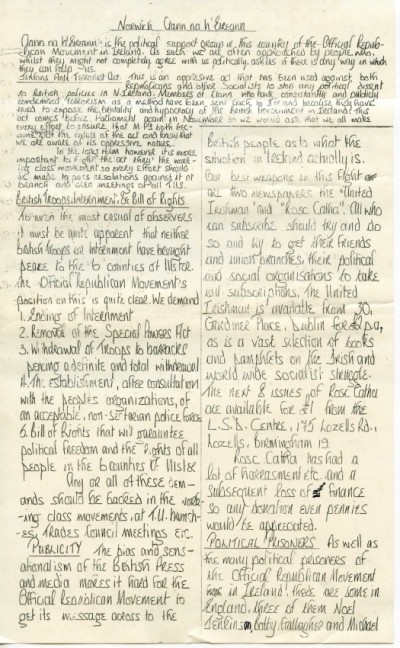 Please note: The Irish Left Archive is provided as a non-commercial historical resource, open to all, and has reproduced this document as an accessible digital reference. Copyright remains with its original authors. If used on other sites, we would appreciate a link back and reference to the Irish Left Archive, in addition to the original creators. For re-publication, commercial, or other uses, please contact the original owners. If documents provided to the Irish Left Archive have been created for or added to other online archives, please inform us so sources can be credited.
Commentary From The Cedar Lounge Revolution
20th June 2016
This unusual and short document is a handwritten, copied double sided leaflet that was issued during the 1970s on behalf of the Norwich cumann of Clann na h'Eireann. Clann na h'Eireann was the UK based support group for Official Sinn Féin and the Official Republican Movement. Their main publication was Rosc Catha (an example of which can be found in the Archive here).
The introductory paragraph notes that fact, as when it says:
Clann na h'Eireann is the political support group in this country of the Official Republicn Movement in Ireland. As such we are often approached by people who whilst they might not completely agree with us politically, ask us if there is any way in which they can help us.
It further notes issues that it campaigned against that elicited some support during the period, The Jenkins Anti-Terrorist Act, British Troop, Internment & Bill of Rights, Press Bias. On the latter it argues that:
Our two best weapons in this flight are two newspapers 'the United Irishman' and 'Rosc Catha'.
A copy of the latter is being posted in the Archive over the Summer. In relation to Rosc Catha the leaflet notes it 'has had a lot of harassment etc and a subsequent loss of finance so any donations even pennies would be appreciated.
It also mentions Political Prisoners and lists those in English jails.
The mention of the poor finances of Rosc Catha perhaps also accounts for the hand-rendered quality of this document which is quite unlike other material emanating from OSF or OSF related formations during this period.
More from Clann na hÉireann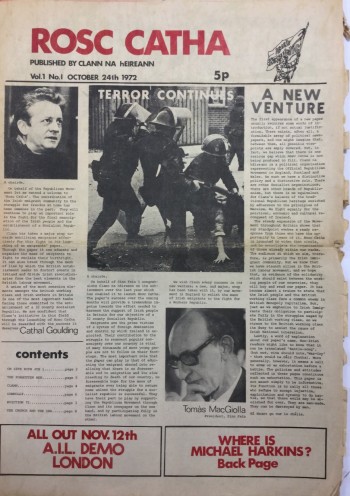 Clann na hÉireann in the archive
---