Ground Rent is Robbery
Repsol, No. 13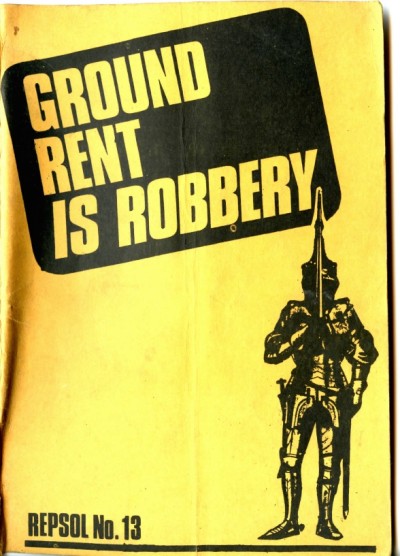 Please note:  The Irish Left Archive is provided as a non-commercial historical resource, open to all, and has reproduced this document as an accessible digital reference. Copyright remains with its original authors. If used on other sites, we would appreciate a link back and reference to The Irish Left Archive, in addition to the original creators. For re-publication, commercial, or other uses, please contact the original owners. If documents provided to The Irish Left Archive have been created for or added to other online archives, please inform us so sources can be credited.
Commentary From The Cedar Lounge Revolution
27th July 2015
Many thanks to Peter Mooney for donating this document to the Archive – one of many from his collection that will be reproduced here in coming months.
This leaflet published in late 1973 or early 1974 outlines its objectives in the Preface:
The aim of this pamphlet is to show that ground rent is not only 'faintly ridiculous' but that it is immoral and that its abolition is long overdue.

A campaign against ground rent is a logical corollary to the fight for peasant proprietary or the demand for the public ownership of inland waters. It is the smashing of a link with the conquest; ground rent is unknown outside Ireland and England, its home of origin.
And the leaflet in the space of 56 pages forensically examines the history of ground rents in 9 chapters, offering both an overview, an an analysis and a course of action to abolish them for good. It also positions this within the contemporary and notes the Association of Combined Residents Associations campaign to abolish ground rent which commenced in June 1973.
The announcement of the campaign, made by ACRA's PRO Andy Conlon, at a public meeting organised by the Sinn Féin party in Ennis created much speculation among ground rent tenants throughout Ireland.
And:
The Irish democracy in the shape of ACRA, NATO and other groups joining in, are beginning to catch up on this relic of feudal times. May they succeed.
More from Sinn Féin [Official]
Sinn Féin [Official] in the archive
---