Statement from the Republican Movement, 15th August 1969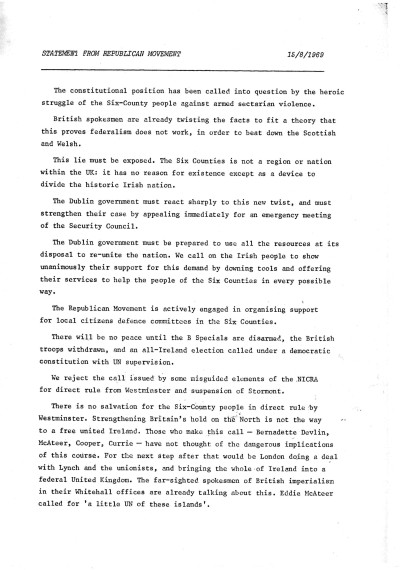 Please note:  The Irish Left Archive is provided as a non-commercial historical resource, open to all, and has reproduced this document as an accessible digital reference. Copyright remains with its original authors. If used on other sites, we would appreciate a link back and reference to The Irish Left Archive, in addition to the original creators. For re-publication, commercial, or other uses, please contact the original owners. If documents provided to The Irish Left Archive have been created for or added to other online archives, please inform us so sources can be credited.
Commentary From The Cedar Lounge Revolution
17th August 2009
This document suggests a slightly different analysis than that offered by the August statement of the IRA. For example the word socialism is not used once and the demands are essentially process based, 'immediate disarming of the B Specials', 'withdrawal of British troops' and so forth.
What's also of interest is the idea expressed that 'we reject the call issued by some misguided elements of the NICRA for direct rule from Westminster and suspension of Stormont'… and 'those who make this call have not thought of the dangerous implications… for the next step after that would be London doing a deal with Lynch and the unionists, and bringing the whole of ireland into a federal United Kingdom'.
More from Sinn Féin [Pre 1970]
Sinn Féin [Pre 1970] in the archive
---