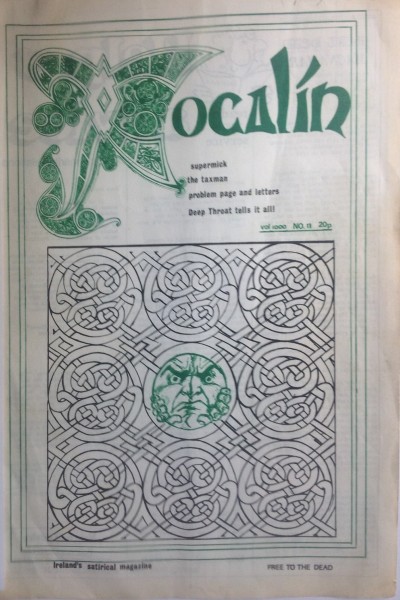 Please note:  The Irish Left Archive is provided as a non-commercial historical resource, open to all, and has reproduced this document as an accessible digital reference. Copyright remains with its original authors. If used on other sites, we would appreciate a link back and reference to The Irish Left Archive, in addition to the original creators. For re-publication, commercial, or other uses, please contact the original owners. If documents provided to The Irish Left Archive have been created for or added to other online archives, please inform us so sources can be credited.
Commentary From The Cedar Lounge Revolution
15th September 2014
Seamus, a friend , recently discovered five editions of Focalín in his attic and has loaned them for copying to the CLR Archive.
Focalín ("A wee word" for the odd reader of CLR who does not understand the First Language) was an Irish political satirical magazine produced in London in the late 1970s /early 1980s. The founders of the magazine were former supporters of the early Peoples Democracy and included an outstanding cartoonist.
Given the nature of the material in the magazine, it had a "sub rosa" flavour about it. Main targets for the magazine were Conor Cruise O'Brien, Charlie Haughey, Irish journalist Mary Kenny who was working in London at the time and legendary Gery (sic) Lawless [and his mythical(!) first lieutenant, Paddy of Cricklewood] to name but a few. One of the magazine's exposés was the Kincora Boys Home scandal for which they got an informal tribute from Glenn Barr.
Specially recommended in this issue are the articles on the Inflatable Bodhran Kit (p3), Letters to the Editor (p4 &10), cartoon SUPERMICK and the Taxman, in fact every page (including the cover)!
The Cedar Lounge Revolution hopes to publish these five editions over the next few months [Libel laws considered!].
We estimate that at least twenty issues of the magazine were published. Any of our readers got any further copies in their attics?
More from Focalín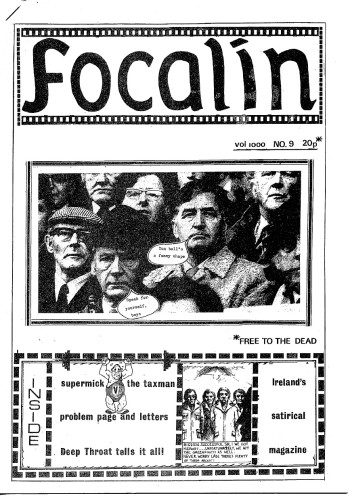 ---