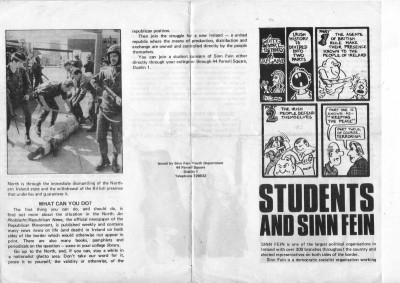 Please note:  The Irish Left Archive is provided as a non-commercial historical resource, open to all, and has reproduced this document as an accessible digital reference. Copyright remains with its original authors. If used on other sites, we would appreciate a link back and reference to The Irish Left Archive, in addition to the original creators. For re-publication, commercial, or other uses, please contact the original owners. If documents provided to The Irish Left Archive have been created for or added to other online archives, please inform us so sources can be credited.
Commentary From The Cedar Lounge Revolution
3rd March 2014
This document,issued by Sinn Féin appears to date from prior to the Hunger Strikes because there's no mention of same in the text. A two sided A4 leaflet it notes that SF is 'one of the largest political organisations in Ireland with over 300 branches throughout the country and elected representatives on both sides of the border'.
It continues:
Sinn Féin is a democratic socialist organisation working for the establishment of a workers' republic where the wealth of this country will be owned and controlled directly by the people who produce it.
It defines socialism as:
The belief that the ownership and control of wealth and of all the wealth producing process should be taken out of the hands of the relatively small group of people who presently own them, and vested instead in the working class.
There are some interesting mentions of 'the rat race of the totally exam-oriented and class biased secondary schooling system' and the 'semi-private nature of Church-controlled schools – in spite of massive state subventions' and 'a professional or clerical strangles hold over the lives and futures of thousands of students'.
It also unequivocally expresses support for the 'armed struggle for national liberation being waged in the North by the IRA'.
More from Sinn Féin
---