Environmental Emergency Conference (Programme)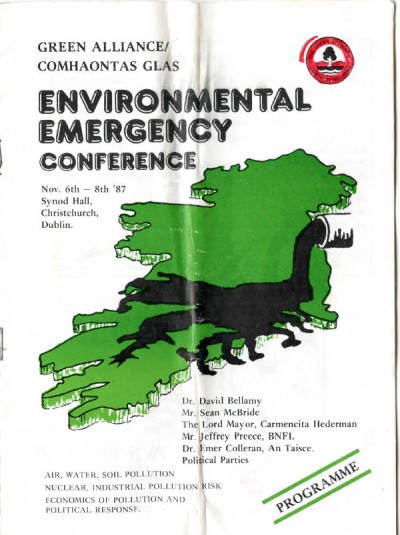 Please note:  The Irish Left Archive is provided as a non-commercial historical resource, open to all, and has reproduced this document as an accessible digital reference. Copyright remains with its original authors. If used on other sites, we would appreciate a link back and reference to The Irish Left Archive, in addition to the original creators. For re-publication, commercial, or other uses, please contact the original owners. If documents provided to The Irish Left Archive have been created for or added to other online archives, please inform us so sources can be credited.
Commentary From The Cedar Lounge Revolution
27th January 2014
This is an unusual document in that it is a programme from an Environmental Emergency Conference held by the Green Alliance/Comhaontas Glass, the precursor of the Green Party. Held in 1987 it had a number of speakers including David Bellamy, Sean McBride, Carmencity Hederman (the Lord Mayor of Dublin), representatives of An Taisce and political parties.
Held in the Synod Hall in Christchurch I myself was at a day or two of the sessions. I vividly remember Bellamy suggesting that nuclear power might be a necessary option in the event of massive environmental degradation and as a means of diverting societies away from fossil fuels. One notable aspect of the conference was the relative lack of emphasis on climate change, though one session is on AIR POLLUTION INDUSTRIAL and mentions 'CFCs and ozone, CO2 and greenhouse effect' – though the risks of nuclear pollution and nuclear power are dealt with. Another interesting aspect is the absence of most of the names that would come to be associated with the representative face of the GP in later years.
There is a letter from the Green Alliance on page 4 that outlines the aim of the Conference; '…an adequate forum for the presentation of reasonable arguments on most aspects of pollution and pollution risk in Ireland'.
Page 2 has an outline of the Green Alliance/Comhaontas Glas stating that:
…[it] is a new political grouping, one that cannot be placed anywhere on the usual Left/Right axis. It is unlike all established Irish parties; it is structured different, makes decisions differently, advocates very different policies and is working towards a very different kind of society.
Worth too noting the seven principles of the Green Alliance/Comhaontas Glas which are also on that page.
Finally, as an aside, is that the genesis of Left Archive on the back page, all the way back in 1987? It could be.
---