New Years' Draw Raffle Ticket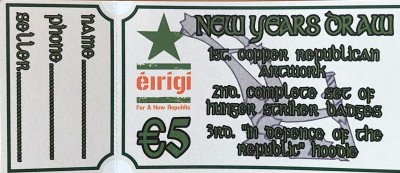 Date:
2019
Organisation:

Éirígí

View:
View Document
Front text:

New Years Draw

1st. Copper Republican Artwork
2nd. Complete set of hunger striker badges
3rd. "In defence of the Republic" hoodie

Discuss:
Comments on this document
Subjects:
 
Please note:  The Irish Left Archive is provided as a non-commercial historical resource, open to all, and has reproduced this document as an accessible digital reference. Copyright remains with its original authors. If used on other sites, we would appreciate a link back and reference to The Irish Left Archive, in addition to the original creators. For re-publication, commercial, or other uses, please contact the original owners. If documents provided to The Irish Left Archive have been created for or added to other online archives, please inform us so sources can be credited.
Commentary From The Cedar Lounge Revolution
20th March 2023
This is a raffle ticket for an Éirígí New Years' draw in 2019.
As always with Éirígí they are visually distinctive. The Archive is very interested in similar materials which give a sense of political activity away from leaflets and posters and the manner in which political parties present themselves to members and the broader public.
More from Éirígí
---