Join the Revolutionary Housing League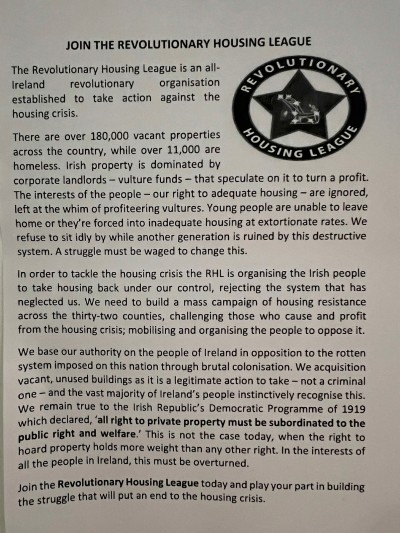 Please note:  The Irish Left Archive is provided as a non-commercial historical resource, open to all, and has reproduced this document as an accessible digital reference. Copyright remains with its original authors. If used on other sites, we would appreciate a link back and reference to The Irish Left Archive, in addition to the original creators. For re-publication, commercial, or other uses, please contact the original owners. If documents provided to The Irish Left Archive have been created for or added to other online archives, please inform us so sources can be credited.
Commentary From The Cedar Lounge Revolution
5th December 2022
Many thanks to Mal for forwarding the above to the Archive.
This leaflet from the Revolutionary Housing League invites readers 'to join' and asserts that the RHL 'is an all-island revolutionary organisation established to take action again the housing crisis'. While it isn't clear on the leaflet this does appear to be similar to materials from Anti-Imperialism Ireland and if anyone is involved it would be useful to clarify the status of the organisation for the Archive. RHL have been involved in occupations and similar actions.
The leaflet notes that there are over '180,000 vacant properties across the country, while over 11,000 are homeless.' It argues that property is 'dominated by corporate landlords – vulture funds'.
It continues:
In order to tackle the housing crisis the RHL is organising the Irish people to take housing back under our control, rejecting the system that has neglected us. We need to build a mass campaign of housing resistance across the thirty-two counties, challenging those who cause and profit from the housing crisis; mobilising and organising the people who oppose it.
The Revolutionary Housing League states that it bases its authority 'on the people of Ireland' and remain 'true to the Irish Republic's Democratic Programme of 1919'. 
It concludes:
Join the Revolutionary Housing League today and play your part in building the struggle that will put an end to the housing crisis.'
Note the logo which incorporates the Starry Plough into a five pointed star. 
---