Stop the Cuts & Charges — Fight Back with the Team You Can Trust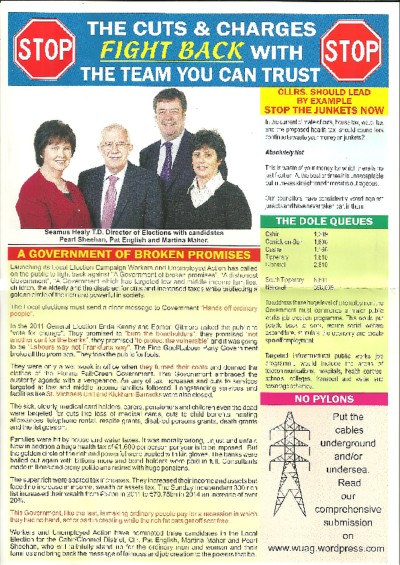 Please note:  The Irish Left Archive is provided as a non-commercial historical resource, open to all, and has reproduced this document as an accessible digital reference. Copyright remains with its original authors. If used on other sites, we would appreciate a link back and reference to The Irish Left Archive, in addition to the original creators. For re-publication, commercial, or other uses, please contact the original owners. If documents provided to The Irish Left Archive have been created for or added to other online archives, please inform us so sources can be credited.
Commentary From The Cedar Lounge Revolution
31st October 2022
Many thanks to IEL of Irish Election Literature  for forwarding this to the Archive.
This is the first document we have posted up from Workers and Unemployed Action. The WUA was established in 1985 by Séamus Healy who is a former member of the League for A Worker's Republic. He was elected to Clonmel Borough Council in 1985 and in 2000 was elected to Dáil Éireann as a TD for Tipperary South where he topped the poll at a by-election. He was returned there at the 2002 General election but lost his seat in 2007. When the constituency was merged with Tipperary North in the new Tipperary constituency he won in 2011 and 2016, only losing his seat in 2020. The WUA ran and won seats on South Tipperary County Council, Tipperary County Council and Clonmel Borough Council. It currently has one councillor, Pat English, elected to Tipperary County Council. The WUA was part of the United Left Alliance and later Right2Change.
This is very much a constituency oriented leaflet, positioned for the 2014 and announcing three candidates, Pearl Sheehan, Pat English and Martina Maher. The leaflet criticises the then Fine Gael/Labour coalition. It notes dole queues in the constituency. There are pieces on the Post Office network and a focus on South Tipperary General Hospital. The leaflet also makes a direct attack on the Labour Party arguing that it 'sells out workers'.
There are also quotes from government Ministers, including the Taoiseach and Tánaiste from prior to them joining government criticising taxation of homes and water. Note the colours of the WUA symbol on the last page which are those of County Tipperary.
---