NIPSA General Secretary Election: Vote Carmel Gates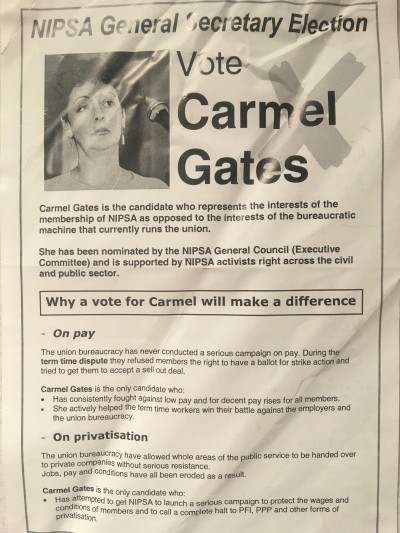 Please note:  The Irish Left Archive is provided as a non-commercial historical resource, open to all, and has reproduced this document as an accessible digital reference. Copyright remains with its original authors. If used on other sites, we would appreciate a link back and reference to The Irish Left Archive, in addition to the original creators. For re-publication, commercial, or other uses, please contact the original owners. If documents provided to The Irish Left Archive have been created for or added to other online archives, please inform us so sources can be credited.
Commentary From The Cedar Lounge Revolution
25th July 2022
Many thanks to the person who forwarded this to the Archive.
As noted previously the Archive is keen to expand its collection of documents relating to trade union campaigns and activism.
This is a leaflet from the election for General Secretary of NIPSA, the Northern Ireland Public Service Alliance. As wiki notes:
The Northern Ireland Public Service Alliance (NIPSA) is a trade union in Northern Ireland affiliated to the Irish Congress of Trade Unions. It is the largest trade union in Northern Ireland, with around 46,000 members, and is organised into two groups, the Civil Service Group, for the staff of public bodies employed on civil service terms and conditions, and the Public Officers Group, for employees of education and library boards, health and social services boards, the Northern Ireland Housing Executive, district councils, other public bodies and voluntary organisations.
Carmel Gates was General Secretary in the early 2000s and ran again in 2007. The Time for Change group was a 'campaigning group fo NIPSA activists who want to build NIPSA into a fighting democratic union'. We'd appreciate any further information on the timeline of this.
Interestingly Carmel Gates won election as General Secretary of NIPSA last year. She is a supporter of Militant Left (CWI in Ireland) .
---