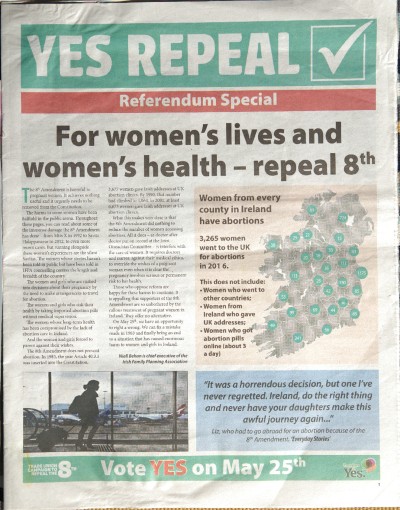 Date:
2018
Organisation:

Trade Union Campaign to Repeal the Eighth Amendment

Niall Behan

,

Fiona Bloomer

,

Clare Daly

,

Deirdre Duffy

,

Máiréad Enright

,

Steve Fitzpatrick

,

David Gibney

,

Rita Harrold

,

Catríona Henchion

,

Breedagh Hughes

,

Catherine McGuinness

,

Orla O'Connor

,

Louise O'Reilly

,

Ailbhe Smith

,

Bríd Smith

,

Taryn Trainor

Collection:
Abortion and reproductive rights
View:
View Document
Discuss:
Comments on this document
Subjects:
 Repeal of the Eighth Amendment Referendum, 2018   
Please note:  The Irish Left Archive is provided as a non-commercial historical resource, open to all, and has reproduced this document as an accessible digital reference. Copyright remains with its original authors. If used on other sites, we would appreciate a link back and reference to The Irish Left Archive, in addition to the original creators. For re-publication, commercial, or other uses, please contact the original owners. If documents provided to The Irish Left Archive have been created for or added to other online archives, please inform us so sources can be credited.
Commentary From The Cedar Lounge Revolution
6th June 2022
Many thanks to Alan Kinsella of Irish Election Literature  for this document.
This is a particularly important publication, issued by the Trade Union Campaign to Repeal the 8th Amendment just prior to the referendum on May 25th 2018 when the 8th Amendment was repealed to allow for the provision of abortion in the Republic.
The Trade Union Campaign was part of Together For Yes, and brought together Connect, Mandate, the Communication Workers Union, United, Together for Yes, TUC, SIPTU, Congress and Dublin Council of Trade Unions.
A wide range of contributors are included such as Clare Daly TD, Rita Harrold of ROSA, Louise O'Reilly TD, Brid Smith TD, activists such as Deirdre Duffy, Orla O'Connor and Ailbhe Smyth, and union representatives such as Taryn Trainor and groups, academics, medical experts and others campaigning in the area.
A concluding piece by Dr. Fiona Bloomer of Ulster University and author of Abortion as a Trade Union issue notes:
A ground breaking study funded by Unite the Union, Unison, Mandate Trade Union, the CWU Ireland and the GMB set out to explore if abortion was indeed a workplace issue.
And:
Over 3000 trade union members took part in the study which was carried out by a team of researchers at Ulster University. Participants indicated broad support for legal reform, with 80% supporting the view that women's health should be the priority in any legal reform. The vast majority; 87%, believed that a woman who had an abortion should not be criminalised.
It notes:
Of those surveyed 20% had direct experience of abortion as a workplace issue. This included cases such as women unable to get time off due to precarious employment, stigma in the workplace, and a lack of support from employers.
And:
An online discussion forum that formed part of the study allowed participants to discuss their views and share their experiences. Hostile views on abortion were expressed by some participants, however after engaging with those with direct experience changes were evident.
It concludes:
The study, the first of its kind in the world, provides clear evidence that unions can play a pivotal role in campaigning for reform and can lead the way in supporting those directly affected.
---