Draft Theses on the Irish Revolution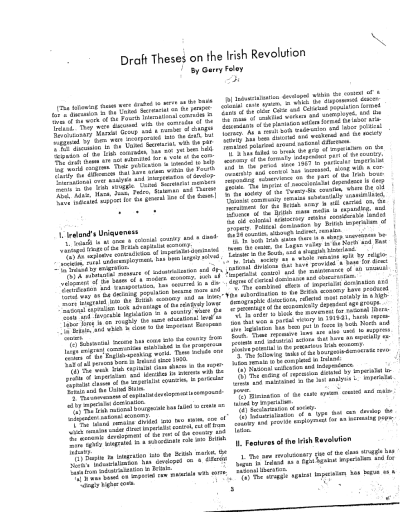 Please note: The Irish Left Archive is provided as a non-commercial historical resource, open to all, and has reproduced this document as an accessible digital reference. Copyright remains with its original authors. If used on other sites, we would appreciate a link back and reference to the Irish Left Archive, in addition to the original creators. For re-publication, commercial, or other uses, please contact the original owners. If documents provided to the Irish Left Archive have been created for or added to other online archives, please inform us so sources can be credited.
Commentary From The Cedar Lounge Revolution
19th August 2013
This document consisting of draft thesis for discussion in the United Secretariat of the Fourth International in conjunction with the Revolutionary Marxist Group is an important addition to the material already in the Archive from Gerry Foley. This was, as the introductory paragraph makes clear:
…drafted to serve as the basis for a discussion in the United Secretariat on the perspectives of work of the Fourth International corrodes in Ireland. They were discussed with the comrades of the Revolutionary Marxist Group and a number of changes suggested by them were incorporated into the draft, but the full discussion in the United Secretariat, with the participation of the Irish comrades, has not yet been held.
It offers an insight into his view of the situation in Ireland in 1973 at a point where his view was that the Official IRA had
…failed to meet the challenge of the struggle. They proved unable to take advantage of the June-July 1971 crisis in Northern Ireland to break the political hegemony of the Catholic parliamentarian[s].
But he also argues that:
Although they grew relative to the Officials and absolutely as a result of the decline in the mass movement and of a general rise in nationalist feeling that the Officails failed to lead, the Provisionals themselves have also been left increasingly isolated by the demobilisation of the nationalist community.
His conclusions, at this remove, appear reasonably coherent. He argues that:
The fight in Ireland has now entered a defensive phase as a result of the demobilisation of the mass movement.
---