The Agitator
A Directory of Autonomous, Non-Hierarchical Groups and Such Like in Britain and Ireland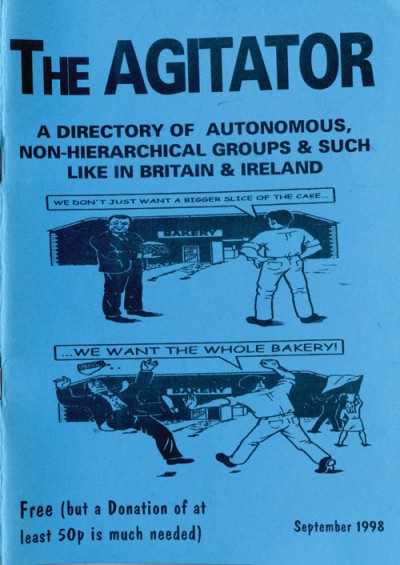 Please note: The Irish Left Archive is provided as a non-commercial historical resource, open to all, and has reproduced this document as an accessible digital reference. Copyright remains with its original authors. If used on other sites, we would appreciate a link back and reference to the Irish Left Archive, in addition to the original creators. For re-publication, commercial, or other uses, please contact the original owners. If documents provided to the Irish Left Archive have been created for or added to other online archives, please inform us so sources can be credited.
Commentary From The Cedar Lounge Revolution
13th August 2012
Here's an interesting document that seeks to list 'autonomous, non-hierarchical groups' in Britain and Ireland. It defines the above as 'if you would broadly describe yourself as autonomous of any political party and working in a non-hierarchical way'. In the introduction under the heading 'So You Want to Change the World? You are not alone!' it notes that:
This directory, created by people from Counter Information, Haringey Solidarity Group & the Anarchist Distribution Service, contains details of autonomous, non-hierarchical, libertarian activist groups, magazines, bookshops, etc. This is the first edition and we accept the list is probably not complete. Can it ever be? Details have been provided by the groups themselves (unless otherwise stated) and we have not edited any entry. However, inclusion in this directory does not necessarily mean we support everything they do.
And it continues:
We have created this directory as a way of encouraging information sharing, solidarity and networking between groups and individuals who are actively involved in the struggle against the oppressive and exploitative society we live in. Groups and individuals who are agitating for a society based on freedom, equality, co-operation, self organisation and mutual aid. We want to be part of creating a culture of resistance, encouraging people to organise reclaiming their lives. We can change society by the way we act, live and relate to one another. We think better communication and sharing of ideas and experiences is a step in the right direction to recognising our collective strength and to stimulating active struggle for social justice.
And it concludes:
Lets get organised, get active and go change the world - rather than just talking or dreaming about it!
The document is organised under various headings including 'Local Groups', 'National Groups', National Networks', 'Autonomous Centres', 'Bookshops' and others.
A broad range of groups are included, and overall the balance tilts strongly towards Britain, perhaps unsurprisingly. So one will find the Animal Liberation Front Supporters group, Dublin Abortion Rights Group and Kent Socialist Alliance ("we are a very broad (socialist, anarchist, anti-fascist, animal rights, trade unionist) network of activists…") and the Equi-Phallic Alliance/Proles for Modernism ("We campaign against 'mysticism', particularly when it is combined with 'green' direct action… we are against the ecofascist current in 'green' politics. We pitch ourselves against the forces of reaction and demand nothing').
National Groups includes Anti-Fascist Action, Class War and so on. The Irish groups included under that heading are a heterogenous mix, including the Irish Mexico Group.
As a snap shot of various strands on the libertarian left while self-admittedly subjective it does provide a fascinating insight.
---