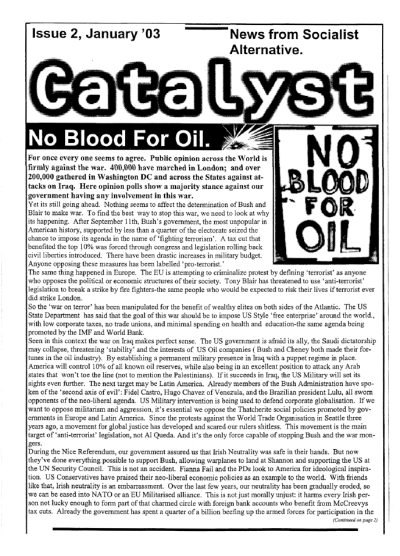 Please note:  The Irish Left Archive is provided as a non-commercial historical resource, open to all, and has reproduced this document as an accessible digital reference. Copyright remains with its original authors. If used on other sites, we would appreciate a link back and reference to The Irish Left Archive, in addition to the original creators. For re-publication, commercial, or other uses, please contact the original owners. If documents provided to The Irish Left Archive have been created for or added to other online archives, please inform us so sources can be credited.
Commentary From The Cedar Lounge Revolution
16th April 2012
For this donation to the Archive many thanks to Alan Mac Simoin [and good to mention again too the excellent WSM Archive taking shape here  which has significant volume of Irish anarchist related materials].
Here's an interesting document from Socialist Alternative [a name also used at times elsewhere including the UK by the CWI], a group that had been part of the SWP previously. It is an intriguing blend of anarchism, direct action and Leninist thinking. Note the listing under 'Events and Demos' of the Anarchist Federation Conference in Belfast which notes 'talks will be held on topics such as autonomist Marxism and council communism'.
And in the text, and in particular on the issue of squatting the document notes 'One of the problems for those trying to organise campaigns outside of the 'twin towers' of the Socialist Party and Socialist Workers Party, will be aware that one fo the difficulties faced is a lack of resources and facilities to kick-start. The creation of such an autonomous zone in Dublin would greatly facilitate the development of campaigns, providing education resources for the activist community and general public and a centre for organisation.'
The contents is fairly varied, albeit the political orientation is not clearly described. There are pieces on Carrickmines Castle, sport for direct action at Shannon - where a large protest had been held in January of 2003, and descriptions of various marches against the Iraq War world wide. This draws connections between 'cutbacks at home [in Ireland] and violence abroad'.
Any further information on the development of this formation would be very welcome.
---