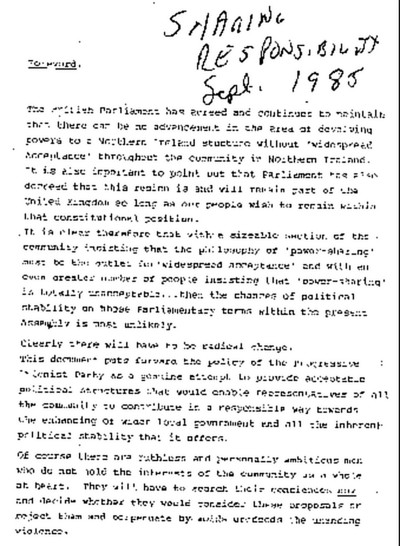 Please note:  The Irish Left Archive is provided as a non-commercial historical resource, open to all, and has reproduced this document as an accessible digital reference. Copyright remains with its original authors. If used on other sites, we would appreciate a link back and reference to The Irish Left Archive, in addition to the original creators. For re-publication, commercial, or other uses, please contact the original owners. If documents provided to The Irish Left Archive have been created for or added to other online archives, please inform us so sources can be credited.
Commentary From The Cedar Lounge Revolution
13th December 2021
Many thanks to Tony Novosel for making this available to the Archive.
This is a particularly striking document. Produced in 1985 by the Progressive Unionist Party, the political party linked with the Ulster Volunteer Force (which is already in the Archive here) it provides a document that seeks to address the problems of Northern Ireland and framed as coming from an explicitly left wing source.
The document notes that:
The Progressive Unionist Party is the only Socialist Unionist Party in N. Ireland. It is a party committed to restoring consensus politics to this region.
The Introduction states:
The British Parliament has agreed and continues to maintain that there can be no advancement in the area of devolving powers to a Northern Ireland structure without widespread Acceptance throughout the community in Northern Ireland. It is also important to point out that Parliament has also decreed that this region is and will remain part of the United Kingdom so long as our people wish to remain within that constitutional position.

It is clear therefore that with a sizeable section of the community insisting that the philosophy of 'power-sharing' must be the outlet for 'widespread acceptance' and with an even greater number of people insisting that 'power-sharing' is totally unacceptable .. then the chances of political stability on those Parliamentary terms within the present Assembly is most unlikely.
And:
Clearly there will have to be radical change.

This document puts forward the policy of the Progressive Unionist Party as a genuine attempt to provide acceptable political structures that would enable representatives of all the community to contribute in a responsible way towards he enhancing of wider local government and all the inherent political stability that it offers.
The document is divided into various sections covering a range of areas and attempts to outline a political dispensation that might win cross-community support. The first section is entitled The Union and it suggests that:
Whilst recognising that within our community there are two legitimate [national] aspirations the most pressing and immediate aspirations have been almost totally neglected, Freedom from fear and violence, social deprivation in all areas; negations of basic human rights and many other issues have not received the public emotional attention that they so richly deserve.
Other sections include: The re-structuring of the Northern Ireland Assembly into a broader local government; Introducing a committee System of regional government; The principle of proportionality in deciding Chairmanship positions; Financial arrangements; Economic co-Operation with a European Member state – Cross-border or North/South co-operation and a Conclusion. The document demands the introduction of a Bill of Rights. And interestingly argues:
In order to allay majority fears of constitutional discussion and in order to ensure a working of the system in minority and majority interests there should be a broad committee of eight Judges. Two from the United Kingdom, two from the Republic of Ireland, two from. Northern Ireland and two from the European Courts to oversee any Bill of Rights.
A key aspect is the idea of 'responsibility sharing', a concept introduced by the PUP and prior to that the UVF in the 1970s. The structures envisaged by the party is one where:
Basically we are proposing a wider local government structure to debate issues pertinent to this region . The main objective must be to obtain agreement;from all political parties if possible; on movement towards more general acceptability of sharing responsibility within a broadened structure of local government.
Within that context there would be an 'upper tier of Regional Government' comprising 153 representatives, there would be a Leader of the administration, a deputy leader (who 'must represent a minority group within the administration' and a Speaker. Committees would be formed which would involve all representatives. There would also be a Central Committee. proposals would have to come before the full assembly for approval.
The Conclusion states:
we have concentrated on the sharing of responsibility rather than the sharing of Power. Power should not be available to any political structure designed to meet the needs of a region of the United Kingdom.
The party notes:
The Progressive Unionist recognises the existence of the Republic of Ireland as a neighbouring country with some common interests. There are important issues to be discussed affecting Tourism, Agriculture, Fisheries, Energy etc.
And:
Many other subjects are covered in the Anqlo-Irish Joint studies Report …. all of which could be handled on a direct basis between representatives from Northern Ireland coming together with representatives from the Republic of Ireland.

It is important however that constitutional iSsues are not allowed to rupture any meaningful dialogue and to this end we have proposed that there should be a properly constituted North/South Committee to discuss these matters free from the Constitutional arguing that has dogged all previous attempts at cross-border co-operation.
In sum, a fascinating document.
More from Progressive Unionist Party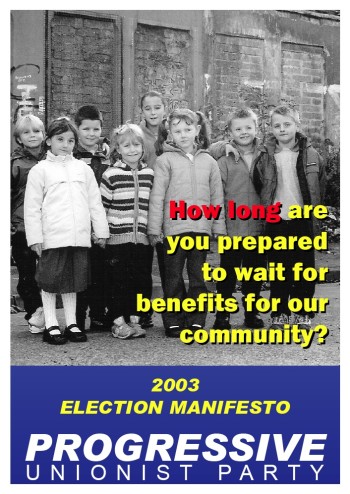 Progressive Unionist Party in the archive
---