The Leninist: Ireland: Thatcher's Vietnam (Supplement)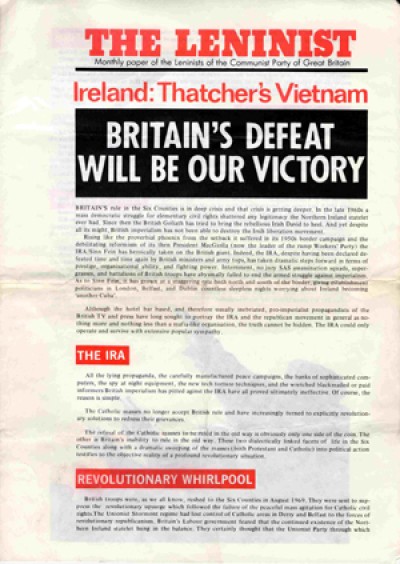 Please note:  The Irish Left Archive is provided as a non-commercial historical resource, open to all, and has reproduced this document as an accessible digital reference. Copyright remains with its original authors. If used on other sites, we would appreciate a link back and reference to The Irish Left Archive, in addition to the original creators. For re-publication, commercial, or other uses, please contact the original owners. If documents provided to The Irish Left Archive have been created for or added to other online archives, please inform us so sources can be credited.
Commentary From The Cedar Lounge Revolution
26th September 2011
This document is a four page pamphlet produced in conjunction with the Leninist, a publication of a small group within or close to the Communist Party of Great Britain in the United Kingdom. This group operated in opposition to the leadership of the CPGB taking a somewhat traditional Marxist-Leninist approach [indeed it's not entirely clear how many involved were also members of the CPGB - John Sullivan's work appears to indicate that at least some were ].
In any event the Leninist was published by a group who had left the CPGB to join the New Communist Party. This was in retrospect regarded as a mistake and subsequently the Leninist  was established to promote their viewpoint. When the CPGB itself dissolved The Leninist announced that they would 'reforge' the party. Now calling themselves the Communist Party of Great Britain (Provisional Central Committee)  they also operated in alliance with other groups and began to publish the Weekly Worker in print form and eventually online. 
The links above will give some indication as to their former and current political position.
When this document was published they sought to appeal to members of the then CPGB. Indeed it urges:
...all readers, sympathizers and supporters of The Leninist… to support the London Bloody Sunday demonstration on February 2 1986. Members of the CPGB should in particular see to it that they have an organized presence on the demonstration, not least given our Party leadership's past and present chauvinist stance on the Irish struggle for national re-unification and independence.
This document "Ireland: Thatcher's Vietnam" is unashamedly pro-IRA and Sinn Féin. It argues that:
Rising like the proverbial phoenix from the setback it suffered in its 1950s border campaign and the debilitating reformism of its then President MacGiolla (now the leader of the rump Workers' Party) the IRA/Sinn Fein has heroically taken on the British giant.
It further argues that…
As to Sinn Fein, it has grown at a staggering rate both north and south of the border, giving the establishment politicians in London, Belfast, and Dublin countless sleepless nights worrying about Ireland becoming 'another Cuba'.
The remainder of the document is written in a similarly vigorous style. An interesting addition to the Archive.
---