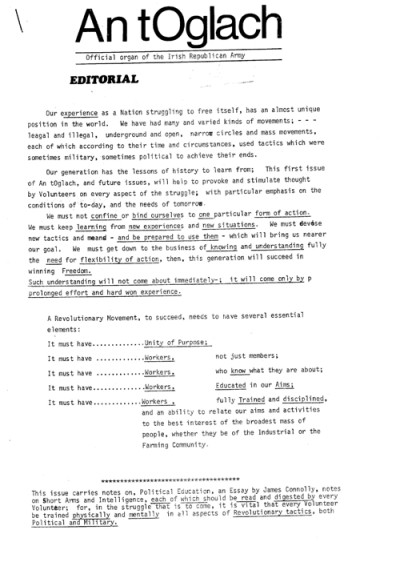 Please note:  The Irish Left Archive is provided as a non-commercial historical resource, open to all, and has reproduced this document as an accessible digital reference. Copyright remains with its original authors. If used on other sites, we would appreciate a link back and reference to The Irish Left Archive, in addition to the original creators. For re-publication, commercial, or other uses, please contact the original owners. If documents provided to The Irish Left Archive have been created for or added to other online archives, please inform us so sources can be credited.
Commentary From The Cedar Lounge Revolution
18th July 2011
This document should be seen as a companion piece with the third issue of An t-Oglac posted up a month or two ago. This was the first issue and clearly demonstrates the changing perspectives of the Republican movement during this period.
It argues in the introductory piece that the Irish nation has 'used tactics which were sometimes military, sometimes political to achieve their ends'. It continues:
We must not confine or bind ourselves to one particular form of action. We must keep learning from new experiences and new situations. We must devise new tactics and means - and be prepared to use them - which will bring us nearer our goal. We must get down to the business of knowing and understanding fully the need for flexibility of action, then, this generation will succeed in winning Freedom.
And it continues:
The immediate task of the movement is not to summon all available forces to attack right now, but to form a working Revolutionary Organisation, capable of uniting all forces and guiding the movement in actual practice and not in a name alone, that is, an organization ready at any time to support every protest and every outbreak and use it it to build up and consolidate the fighting forces suitable for the decisive struggle.
There are short pieces on Liam Mellowes and James Connolly and an interesting outline in 'Notes on Intelligence' of what is expected of Volunteers in relation to gathering intelligence.
More from An tÓglách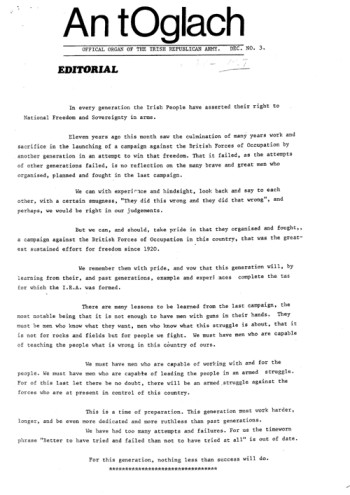 ---