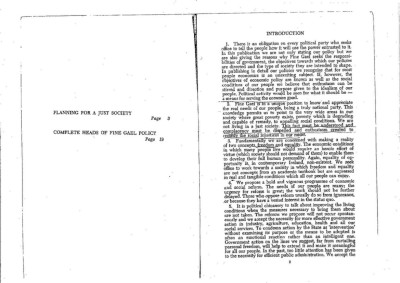 Please note: The Irish Left Archive is provided as a non-commercial historical resource, open to all, and has reproduced this document as an accessible digital reference. Copyright remains with its original authors. If used on other sites, we would appreciate a link back and reference to the Irish Left Archive, in addition to the original creators. For re-publication, commercial, or other uses, please contact the original owners. If documents provided to the Irish Left Archive have been created for or added to other online archives, please inform us so sources can be credited.
Commentary From The Cedar Lounge Revolution
11th July 2011
Some time back the CLR sent out an appeal for a copy of this document to scan because it wasn't available on the internet, as far as could be judged. We're therefore indebted to two people for forwarding documents relating to the above. Firstly PM who forwarded the response in the Irish Times to the program as published. Some of the information from that will be posted up in the near future. Secondly Conor McCabe who last week sent the document above to the Archive.
There is a question as to whether this should be in the archive at all. Fine Gael is not a left wing party  as the term is generally understood, and their position - for example in respect of their membership of international political associations - is with European Christian Democracy. And yet this document written by Declan Costello and …. Has taken on a rhetorical life as a strongly progressive, even left wing artifact . However it is true that there was a strand within Fine Gael which self-identified with the term 'social democrat' and in doing so pointed to the Just Society as the foundation stone of their political approach. So in that sense it seems useful to include it even as and indication of what they considered social democracy to be.
Whether this identification is accurate is left to readers to decide. Conor McCabe makes the following point:
After 16 pages of chest-beating about fairness and equality - a game that is still played today - Fine Gael finally produces its solution regarding social investment: "We propose to establish, as part of the machinery of planning, a social commission representative of the government, local authorities, voluntary charitable organisations, educational and health authorities whose functions will be to assess the social investment needs for the whole country, and to draw up and integrate plans to meet them." (p.17) Voluntary charitable organisations? Educational and health authorities? This is 1965. What Fine Gael is talking about here is the Catholic Church. The plan put forward was one which involved government sitting down with the Catholic church and working out the social investment needs of the State.
There is some further information here  on the genesis of the document.
---