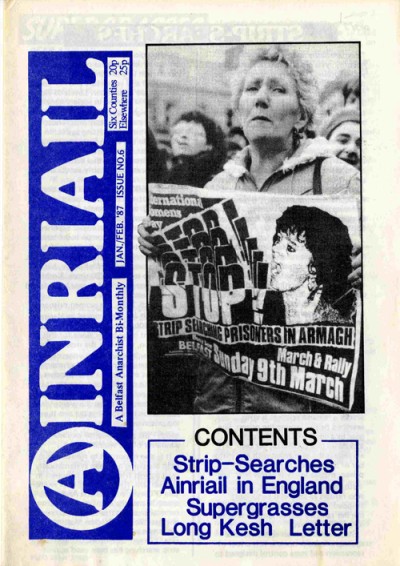 Please note: The Irish Left Archive is provided as a non-commercial historical resource, open to all, and has reproduced this document as an accessible digital reference. Copyright remains with its original authors. If used on other sites, we would appreciate a link back and reference to the Irish Left Archive, in addition to the original creators. For re-publication, commercial, or other uses, please contact the original owners. If documents provided to the Irish Left Archive have been created for or added to other online archives, please inform us so sources can be credited.
Commentary From The Cedar Lounge Revolution
28th February 2011
This document begins to fill a gap in the Archive. We have, unfortunately, very limited samples of Irish Anarchist material - and those documents we do have were very kindly donated by Alan MacSimoin and the Workers Solidarity Movement.
The 12 page A5 document dates from early 1987 and was as far as can be determined produced by the Belfast Anarchist Collective, or a successor group, and was one of a series of regularly published leaflets [for more on the BAC see here ].
The contents is strongly positioned within an anarchist viewpoint specific to Belfast during this time. Therefore it has articles on Strip-searches and an interesting two page contribution from Anthony McIntyre and Micky McMullan, both Republican prisoners at the time in Long Kesh under the heading 'Ideas from Long Kesh'.
This is contextualisd as follows:
The following article is not meant to be a definitive analysis of present republican strategy in the struggle for Irish unity. However the issues it deals with are of consequence, and should not be ignored by Republicans when reflecting on the nature of the present struggle and the direction in which it is ultimately leading us.
Indeed it is telling how critical they are of 'armed struggle' - they write that 'the present shape of the armed struggle - as distinctly opposed to the legitimate right of a suppressed people to use armed struggle - is in no way conducive to long term progress being made. Not only has it failed to remove the British, or substantially alter their resolve it has - because of its emphasis on 'local targets' given Northern Nationalists the peculiar appearance of 'otherness' in the eyes of many people in the South'.
There is a useful account of an Ainriail visit to England and a video and speaking tour which was organised by the Direct Action Movement, 'an anarcho-syndicalist grouping'. The video chosen was 'the Plastic Bullet video, 'The Deadly Truth' and 'along with the half-hour talk, ensured a wide ranging debate on the role of the British state in Ireland'.
This further expands on Ainriail's own viewpoint which it describes as this:
There is clear and common understanding by the two [anarchist] groups in the north, Ballymena and Belfast, and the Workers Solidarity Movement in Dublin and Cork, that we are anti-imperialist. That we are opposed to the division of the working class in the north, the division of the working class north and south, opposed to both sectarianism and partition, and to the cause of both - the British state's presence in Ireland. And further more to the incorporation of Ireland in NATO. But as anti-imperialists we are also opposed to the relations of production based on capitalist exploitation, whether from local or multi-national sources. Herein lies one of our differences with the republican movement, which is the largest, most active and influential of the anti-imperialist groups. At best they have a policy of nationalistaion, ie state run industry, and at worst a benign free capitalist attitude which favours more constraint on enterprises eg heavier taxation.
It continues with an analysis that is critical of Republicanism, whether 'socialist or not… But concludes:
Having said that we have every respect for our Republican brothers and sisters who are committed to political and military oppostiion to the Britsh state. In Belfast we have, and will continue to work along side them and with other left wing groups…
There are more copies and further anarchist material which will be added to the Archive over the year.
---