Go Fourth and Multiply
The British Left in 1983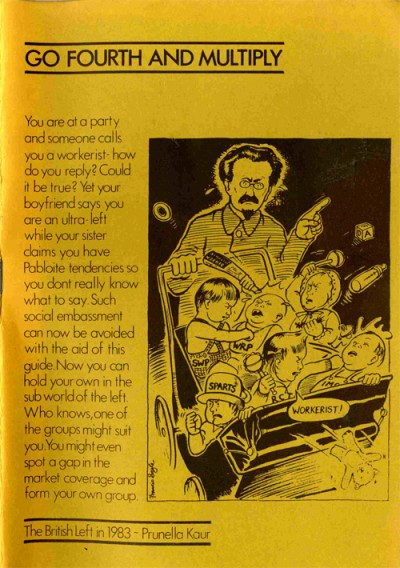 Please note:  The Irish Left Archive is provided as a non-commercial historical resource, open to all, and has reproduced this document as an accessible digital reference. Copyright remains with its original authors. If used on other sites, we would appreciate a link back and reference to The Irish Left Archive, in addition to the original creators. For re-publication, commercial, or other uses, please contact the original owners. If documents provided to The Irish Left Archive have been created for or added to other online archives, please inform us so sources can be credited.
Commentary From The Cedar Lounge Revolution
21st February 2011
This document on first sight doesn't appear to have much relation to the Irish Left, the title alone indicates that it deals with the British Left. However, turn to Part IV if you want an overview of one Irish formation very familiar to many of us here, under the heading 'Neighbours'.
Other than the main feature of this pamphlet, produced in 1983 and revised later as 'As Soon as this Pub Closes'  is that it remains an affectionate and often insightful overview of the British Left written in an explicitly humourous and sardonic fashion.
John Sullivan, from an Irish/Scottish background, was a fascinating individual and you'll find an overview of his life and work here. 
The text is available online but as ever it seems somehow more appropriate to view this in the original printed format.
As it says on the front cover…
You are at a party and someone calls you a workerist - how do you reply? Could it be true? Yet your boyfriend says you an ultra-left while your sister claims you have Pabloite tendencies so you don't really know what t say. Such social embarrassment can now be avoided with the aid of this guide. Now you can hold your own in the sub world of the left. Who knows, one of the groups might suit you. You might even spot a gap in the market coverage and form your own group.
Enjoy.
---