Political Freedom and the Siege of Derry
Was the Closing of the Gates by the Apprentice Boys the starting point of Constitutional Government and Religious Liberty?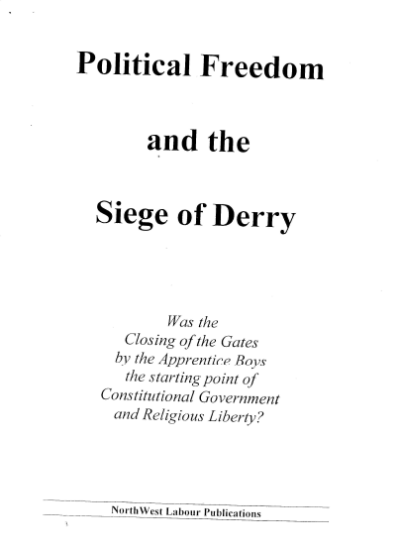 Please note: The Irish Left Archive is provided as a non-commercial historical resource, open to all, and has reproduced this document as an accessible digital reference. Copyright remains with its original authors. If used on other sites, we would appreciate a link back and reference to the Irish Left Archive, in addition to the original creators. For re-publication, commercial, or other uses, please contact the original owners. If documents provided to the Irish Left Archive have been created for or added to other online archives, please inform us so sources can be credited.
Commentary From The Cedar Lounge Revolution
19th March 2012
This is an interesting document, in that while it isn't overtly badged by a left party or formation is clearly linked in some way to the Aubane Historical Society (formerly BICO). NorthWest Labour Publications were based in Derry.
According to the Introduction, penned by Pat Muldowney, it seeks to determine what 'kind of historic event do the Apprentice Boys commemorate each August? It is time that some attempt was made to give a straight answer'.
And it asks 'if what the Apprentice Boys commemorate annually is the birth of Constitutional freedom, why is the commemoration resented by most of the people of Derry?'
Following on from that it notes that 'If the Closing of the Gates marked the birth of freedom, why did Derry itself have to wait until the 1970s for a local government based on the majority? And does not the political history of the city from 1689 to the 1970s suggest the Gates were Closed in the interest of establishing the dominance of an intolerant sect over the mass of the people?'
These are important questions. If the Apprentice Boys commemorate the birth of freedom, socialists should use their influence to discourage opposition to their parade. But if what they commemorate is sectarian supremacy, then it is their activity that should be discouraged.

We begin a discussion of this serious matter by reprinting an article from the Irish Political Review (October 1996).
The document contains the transcript of a Radio Ulster interview with Jonathan Bardon from 1996 which as it notes acerbically '[he was brought on] to explain[s] why the siege was a great event in the progress of humanity towards whatever it was progressing towards. Bardon's exposition was followed by a discussion involving Gregory Campbell of the Democratic Unionist Party and others. Bardon a College lecturer in Belfast, is of Ascendancy background, which is not the same thing as Ulster Unionist background.'
It continues:
There was a time when the Ascendancy looked down with contempt or embarrassment on Protestant Ulster. But Bardon appears to be entirely in sympathy with it. And Gregory Campbell responded to his sympathy with a due, but nevertheless surprising, nod of deference.
This is followed by 'a comment on it from the historian Brendan Clifford'. This comment runs for four pages and is structured under headings such as THE TRUTH, WHY THE GATES WERE CLOSED, RELIGIOUS FREEDOM and DEMOCRACY.'
The conclusion is of some interest. Clifford asserts that 'The reason there must be an accommodation between the Protestant and Catholic communities is because the Protestant community exists, and not because it stood for any kind of popular freedom in Ireland three hundred years ago. What it stood for three hundred years ago was conquest, plunder, genocide and Protestant theocracy.'
---