In Dublin City in 1913: Songs and Stories of the Workers of Dublin
Dublin Council of Trade Unions May Day Festival 1988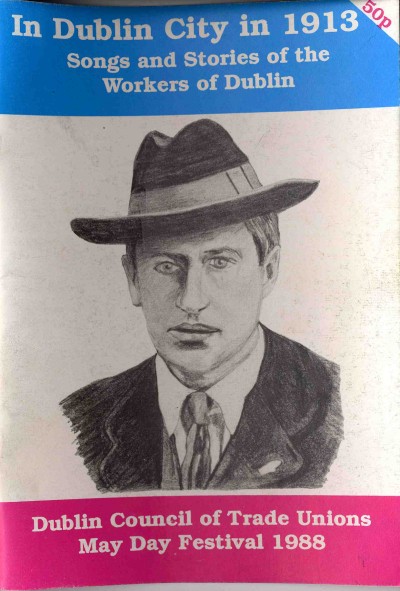 Please note:  The Irish Left Archive is provided as a non-commercial historical resource, open to all, and has reproduced this document as an accessible digital reference. Copyright remains with its original authors. If used on other sites, we would appreciate a link back and reference to The Irish Left Archive, in addition to the original creators. For re-publication, commercial, or other uses, please contact the original owners. If documents provided to The Irish Left Archive have been created for or added to other online archives, please inform us so sources can be credited.
Commentary From The Cedar Lounge Revolution
20th December 2010
The Dublin Council of Trade Unions has an interesting relationship with the left over the years and this document to some degree underlines that.
The introduction by the Festival Co-ordinator notes that 'the DCTU realised that in 1988 there was much to reflect upon in our capital's social history'.
In this book of songs and stories, we aim to throw a little light on Dublin's working people, their struggles and their heroes. This year is also a cause for the trade union and labour movement to commemorate the 75th Anniversary of the 1913 Lock-out, arguably the most important event in the survival and solidification of workers in their quest to organise for their rights.
There are articles on 1913, on May Day in Dublin since 1890, a profile of Jim Larkin and James Connolly and a range of other materials of interest.
This is very much of it's time in terms of production and look. But that the centennial anniversaries of many of these events are drawing closer perhaps makes this document all the more interesting and worth reflecting upon. Given the circumstances prevailing today (2010) it will instructive to see how those anniversaries are engaged with.
Appendix: Songs Included
Avanti Popolo (Bandiera Rossa)
Deportees
In Dublin City in 1913
The Internationale
Jarama Valley
James Connolly
Joe Hill
Molly Molone
The Old Triangle
The Red Flag
Rosa Luxemburg
The Watchword of Labour We Shall not be Moved
---