Irish Political Review, No. 1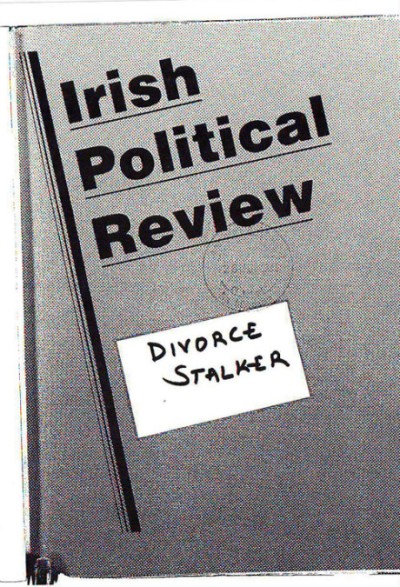 Please note:  The Irish Left Archive is provided as a non-commercial historical resource, open to all, and has reproduced this document as an accessible digital reference. Copyright remains with its original authors. If used on other sites, we would appreciate a link back and reference to The Irish Left Archive, in addition to the original creators. For re-publication, commercial, or other uses, please contact the original owners. If documents provided to The Irish Left Archive have been created for or added to other online archives, please inform us so sources can be credited.
Commentary From The Cedar Lounge Revolution
8th September 2008
An anonymous contributor to the Archive has forwarded the above and written the following. Many thanks.
The "Irish Political Review" began in July 1986, possibly as a successor to the British and Irish Communist Organisation publication "The Irish Communist" which had ceased publication earlier that year. The first issue was largely anonymous except for the crediting of David Alvey as editor. The main contributors included Brendan and Angela Clifford, Alvey, John Martin, Pat Maloney,Dick Spicer and Tadhg O'Connor.
Regular targets included the IRA (January 1988), Irish Neutrality (November 1986 & September 1989), John Hume (described as a "totalitarian" in the December 1986 issue) Garrett Fitzgerald (February & September 1987) and critics of the Diplock Courts and Section 31 (December 1987). Although you wouldn't see it in this issue,the Catholic Church was a regular target as well (March 1988 laid into the Catholic hierarchy, while January 1989 savaged Sister Stanislaus Kennedy). This constant aggression was rather sometimes arbitrary – I'm still at a loss to know why the poor people of Charleville were also savaged in the October 1986 issue.
There was lots of coverage of the Irish Labour Party, possibly because many of Jim Kemmy's Democratic Socialist Party (with B&ICO links) were thinking of joining the LP at the time (as the DSP ultimately did). Charles J. Haughey was often praised, especially for his opposition to the Anglo-Irish Agreement.
More from Athol Books
---