The French Revolution and the Irish Struggle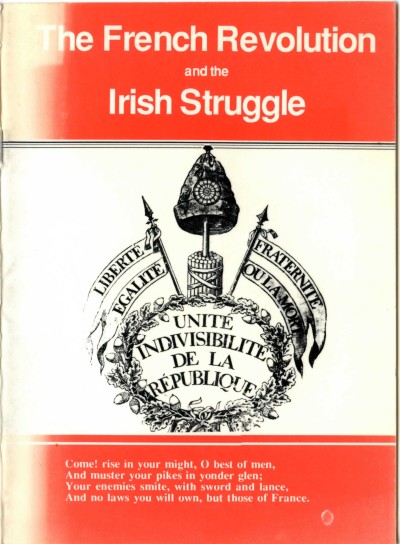 Please note:  The Irish Left Archive is provided as a non-commercial historical resource, open to all, and has reproduced this document as an accessible digital reference. Copyright remains with its original authors. If used on other sites, we would appreciate a link back and reference to The Irish Left Archive, in addition to the original creators. For re-publication, commercial, or other uses, please contact the original owners. If documents provided to The Irish Left Archive have been created for or added to other online archives, please inform us so sources can be credited.
Commentary From The Cedar Lounge Revolution
27th July 2020
Many thanks to the person who forwarded this to the Archive.
This short document printed reprints a lecture given by Seán Ó Brádaigh in Dublin on 21st January, 1989, to mark the 70th Anniversary of the first Dáil and explores links between 'Irish and French Republicans – 'Partners in Revolution' 200 Years Ago'.
The conclusion is particularly notable:
As Irish Republicans we are all in the tradition of Tone and the United Irishmen. That tradition was born of an Irish separatism which was given a new direction and new lease of life by the inspiration of the events of 1789 in France. The generous ideas of the First French Republic born in blood 200 years ago, are part of an inheritance which has inspired very generation of Irish people since then and inspires us today.

We are children of Ireland, but we are also, as Irish Republicans 'infants de la patria' because the school of Irish Republicanism is a Franco-Irish school and we have all been there. Liberty, Equality, Fraternity are noble ideal which still inspire us and for which we still struggle, both North and South of the British-created border.
---