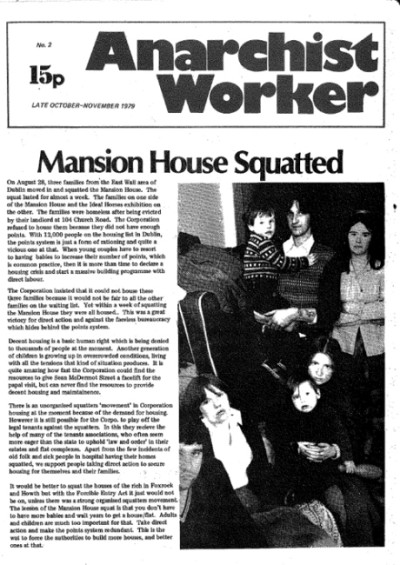 Please note:  The Irish Left Archive is provided as a non-commercial historical resource, open to all, and has reproduced this document as an accessible digital reference. Copyright remains with its original authors. If used on other sites, we would appreciate a link back and reference to The Irish Left Archive, in addition to the original creators. For re-publication, commercial, or other uses, please contact the original owners. If documents provided to The Irish Left Archive have been created for or added to other online archives, please inform us so sources can be credited.
Commentary From The Cedar Lounge Revolution
13th July 2009
Here is a very welcome addition to the Archive, our first sample of anarchist material. It is a fascinating piece dating from October/November 1979. This is I believe also available on the Workers Solidarity Movement website .
It expresses a broad range of concerns, from the necessity for a public housing programme given the front page story which details how the Mansion House was squatted (successfully) by families from East Wall unable to get Corporation housing, a strongly secular approach to education, an emphatic pro-union stance (albeit for an independent union run directly by workers free of the official apparatus) – and note the mention of the CNT. There is also a double page spread on Anarchism and Religion which uses as its starting point the then recent visit of the Pope. All this builds into a coherent ideological approach which is simultaneously rooted in workers struggles on the ground. And with that in mind note the piece on the last page which criticises INLA punishment shootings.
I'm indebted to Alan MacSimon for the following observations…
Anarchist Worker published in the late 1970s/early 1980s and can be regarded as one of the forerunners of the Workers Solidarity Movement. It existed in Belfast and Dublin but was always more of an idea than a reality, with membership never going into double figures! If I remember correctly the print run was about 750.
You can find out more about the WSM here.
---