Liberty 75 Supplement
Liberty News, Vol. 1, No. 1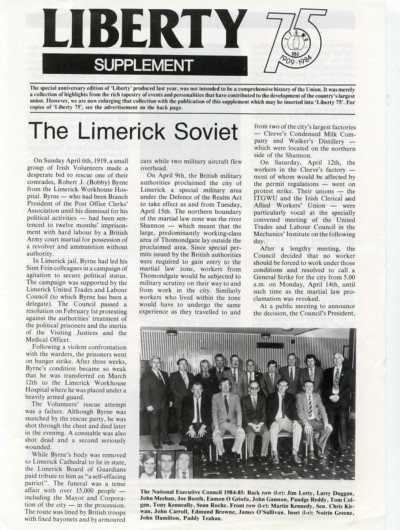 Please note:  The Irish Left Archive is provided as a non-commercial historical resource, open to all, and has reproduced this document as an accessible digital reference. Copyright remains with its original authors. If used on other sites, we would appreciate a link back and reference to The Irish Left Archive, in addition to the original creators. For re-publication, commercial, or other uses, please contact the original owners. If documents provided to The Irish Left Archive have been created for or added to other online archives, please inform us so sources can be credited.
Commentary From The Cedar Lounge Revolution
9th March 2020
Many thanks to the person who forwarded this to the Archive.
This supplement that was distributed with the ITGWU publication Liberty News (posted here last week) covers the Limerick Soviet and other events in the history of the ITGWU across four pages. It notes that:
The special anniversary edition of Liberty produced last year was not intended to be a comprehensive history of the Union. It was merely a collection of highlights from the rich tapestry of events and personalities that have contributed to the development of the country's largest union. However, we are now enlarging that collection with the publication of this supplement which may be inserted into 'Liberty 75'.
The piece itself considers the events leading up to and including the creation of the Limerick Soviet in 1919. On the last page there is a piece on Early Days in the South-East, which examines the establishment of the ITGWU in Wexford, Waterford and Kilkenny.
More from Liberty News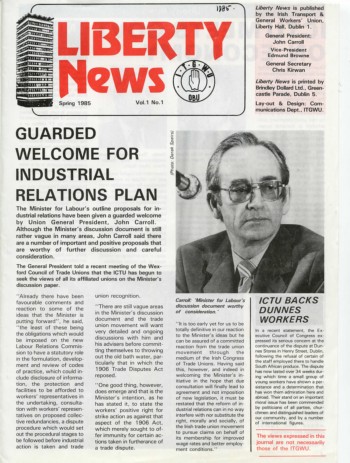 ---