Nation or Province? Ireland and the Common Market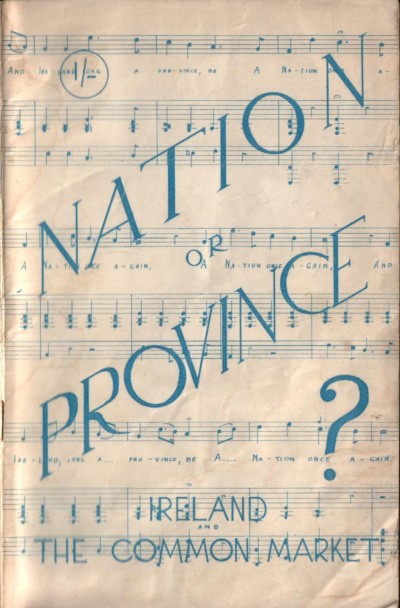 Please note: The Irish Left Archive is provided as a non-commercial historical resource, open to all, and has reproduced this document as an accessible digital reference. Copyright remains with its original authors. If used on other sites, we would appreciate a link back and reference to the Irish Left Archive, in addition to the original creators. For re-publication, commercial, or other uses, please contact the original owners. If documents provided to the Irish Left Archive have been created for or added to other online archives, please inform us so sources can be credited.
Commentary From The Cedar Lounge Revolution
25th May 2009
A guest post by John O'Neill of the Irish Socialist Network, who scanned this document in. John is also a candidate at the Local Elections in Finglas. This is a document that he forwarded to the Archive earlier in the year. Perhaps not quite 'left', but a useful insight into Sinn Féin in the early 1960s.
Published by Sinn Fein, 30 Gardiner Place, Dublin 1, this is their position on the 'common market' in 1963. The introduction isn't authored but the 3rd paragraph summarises this pamphlet "Sinn Fein stands opposed to the latest attempt to sell Ireland's right to freedom, sovereignty and neutrality, and to allow our own Christian way of life to be swamped in a flood of European materialism."   The pamphlet warns of the influx of foreigners who will sell their services at a cheaper rate than native workers, higher taxes, homesteads (farms) will be merged into rancher holdings, and the surrender of National rights. It touches on the democratic deficit correctly pointing out that Ireland would have only two votes out of twenty seven and cautions that it will mean Ireland would be a part of NATO.
It disparages unnamed politicians who argued that not to join would leave Ireland vulnerable to communist invasion and reminds the reader that, in 1939-45, Irishmen were inveigled by politicians to join the forces of Britain then an ally of Communist Russia and further reminding all of the fact that the six counties are still occupied and not by communist Russia.
  The pamphlet gets worse, warning that Italy and France, having the largest communist parties outside the Iron Curtain and the freedom of movement the Common Market permits could mean Ireland couldn't stop communists coming to live here!
  Personally, the possibility of Ireland being flooded by Italian communists would have me voting 'yes' early and often.  
  Goulding really did have his work cut out!
More from Sinn Féin [Pre 1970]
Sinn Féin [Pre 1970] in the archive
---