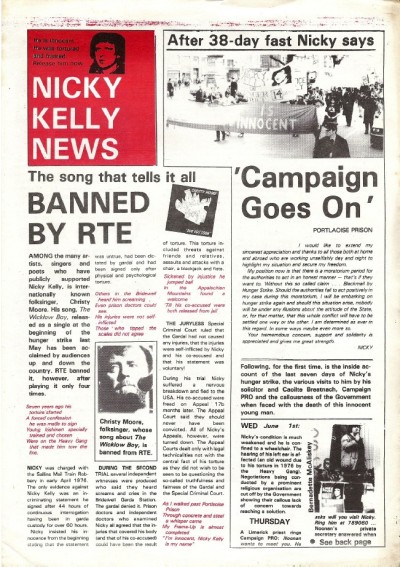 Please note:  The Irish Left Archive is provided as a non-commercial historical resource, open to all, and has reproduced this document as an accessible digital reference. Copyright remains with its original authors. If used on other sites, we would appreciate a link back and reference to The Irish Left Archive, in addition to the original creators. For re-publication, commercial, or other uses, please contact the original owners. If documents provided to The Irish Left Archive have been created for or added to other online archives, please inform us so sources can be credited.
Commentary From The Cedar Lounge Revolution
11th May 2009
I'm once more indebted to a contributor forwarding this document – already scanned no less.
A useful document produced just after Nicky Kelly's  [former IRSP member, imprisoned over the Sallins train robbery and after numerous years in prison eventually released and more recently a Labour party candidate] 38 day hunger strike in 1983 which charts the broad spread of the campaign for his release. This is not explicitly badged as belonging to any political party, indeed one could make a strong argument that this weights heavily on a campaign which has roots in the cultural as well as the political. Hence the emphasis on the front page on the banning by RTÉ of Christy Moore's "The Wicklow Boy".
Inside the range of organisations supporting the campaign is impressive. The history of the IRSP is given in brief, but this is not an ideological document and rests more on issues of repression and justice. That said it does detail the responses of Fianna Fáil and the Labour Party in some detail.
And it's worth noting the point made on the last page under the "What You Can Do" section… That:
We are a non party political group with one aim - the release of Nicky Kelly.
This text and these files are a resource for use freely by anyone who wants to for whatever purpose – that's the whole point of the Archive (well that and the discussions). But if you do happen to use them we'd really appreciate if you mentioned that you found them at the Irish Left Online Document Archive…
---