Wake Up Act Now
Why we're taking action and why you should join us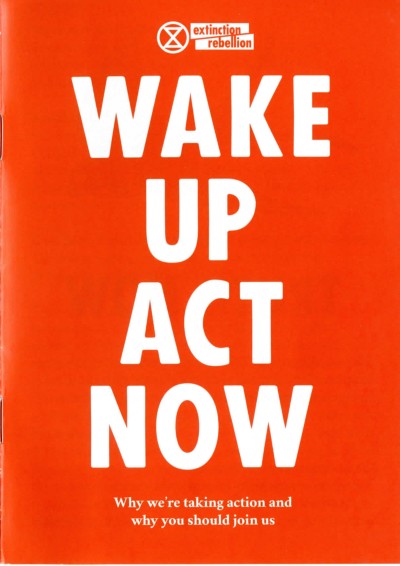 Please note:  The Irish Left Archive is provided as a non-commercial historical resource, open to all, and has reproduced this document as an accessible digital reference. Copyright remains with its original authors. If used on other sites, we would appreciate a link back and reference to The Irish Left Archive, in addition to the original creators. For re-publication, commercial, or other uses, please contact the original owners. If documents provided to The Irish Left Archive have been created for or added to other online archives, please inform us so sources can be credited.
Commentary From The Cedar Lounge Revolution
11th November 2019
Many thanks to Alan Kinsella of Irish Election Literature  for forwarding this document to the Archive. A short leaflet produced and distributed by Extinction Rebellion during recent demonstrations – one slight caveat, this may have been produced by XR in the UK, but is not badged as such and the tone is generalised rather than location specific.
In twelve pages it covers considerable ground under various headings 'Truth Now', 'Change Now', 'The Time is Now' and 'Everybody Now'.

All of us, the ones we love and every other living thing on our planet, are threatened by the climate and ecological emergency. Extinction Rebellion are trying to prevent this and you can help. We need everybody to take action – right now.
And it warns:
Societal collapse

The combined escalation of all these issues puts societies under threat. In the words of David Attenborough: "the collapse of our civilisations is on the horizon".

For many people across the world these problems are already a reality. Even in the rich world, we face imminent and growing danger. We a re the last generation who can act to fight this crisis – it's now or never.
It paints a picture of environmental collapse and argues that:
We're not simply acting in our own interests, we're acting for all humanity and future generations. We act out of love for our planet and all life on it and we appeal to you to join with us. We need everybody now.
---