Workers' Weekly, Vol. 2, No. 8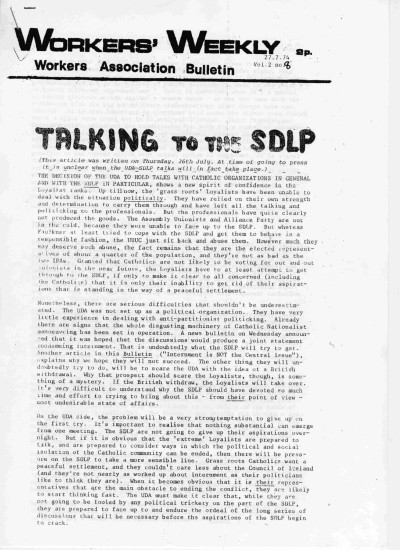 Please note:  The Irish Left Archive is provided as a non-commercial historical resource, open to all, and has reproduced this document as an accessible digital reference. Copyright remains with its original authors. If used on other sites, we would appreciate a link back and reference to The Irish Left Archive, in addition to the original creators. For re-publication, commercial, or other uses, please contact the original owners. If documents provided to The Irish Left Archive have been created for or added to other online archives, please inform us so sources can be credited.
Commentary From The Cedar Lounge Revolution
24th November 2008
As mentioned a couple of weeks back on this  thread, here is Workers Weekly, a publication of the Workers Association, also of the British and Irish Communist Organisation. This dates from July 1974.
I have a few more of these which I will post up in future months, but I think this gives an useful insight into the political position of BICO during the early 1970s. Worth noting their stance as regards the UDA and the SDLP in the aftermath of Sunningdale. Worth noting also the following sentence…
'Granted that Catholics are not likely to be voting for out and out unionists in the near future, the Loyalists have at least attempt [sic] to get through to the SDLP, if only make it clear to all concerned (including the Catholics) that it is only their inability to get rid of their aspirations that is standing in the way of a peaceful settlement'.
They appear entirely antagonistic to a Council of Ireland and dismissive of internment and its pernicious impact on Nationalists in the North. Or how about the following?
"The Civil Rights agitation itself was an attempt to divert attention away from the need for the Catholic community to drop its anti-partitionism and integrate fully into society in Northern Ireland. Instead of facing up to the fact that their isolation from society was due to their leaders continually campaigning for destruction of the state, they insisted on blaming the 'other side' and attributing their (largely self-imposed) isolation solely to 'Unionist bigotry'."
Or what of this attitude to Irish culture?
As socialists, we have always imagined that everyone would be better off under socialism, which would be even more efficiently organized on an even larger scale than capitalism. If however socialism means confinement in a tight little turf-powered economy with everybody speaking a language that is of merely antiquarian interest to the rest of Europe, then we'll be quite happy to settle for capitalism (and for that matter, 'imperialism'), until something better comes along.
I leave it for your consideration.
For a further interesting - if subjective - analysis of BICO this is worth a visit .
More from Workers' Weekly
Workers' Weekly in the archive
---