Your Rights as an Irish Citizen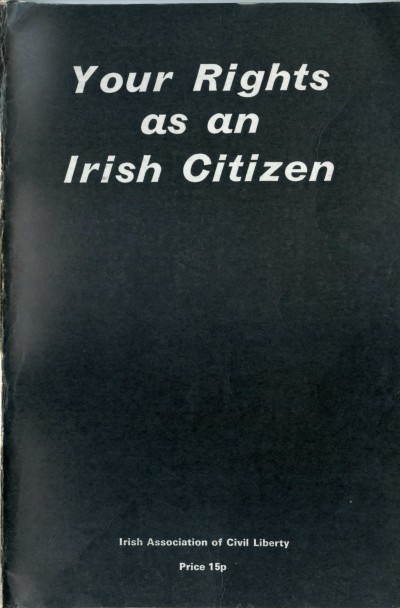 Please note: The Irish Left Archive is provided as a non-commercial historical resource, open to all, and has reproduced this document as an accessible digital reference. Copyright remains with its original authors. If used on other sites, we would appreciate a link back and reference to the Irish Left Archive, in addition to the original creators. For re-publication, commercial, or other uses, please contact the original owners. If documents provided to the Irish Left Archive have been created for or added to other online archives, please inform us so sources can be credited.
Commentary From The Cedar Lounge Revolution
1st April 2019
Many thanks to Peter Mooney for this document.
This document, published by the Irish Association of Civil Liberty was published in 1972. The IACL was founded in 1947 and went on to become the Irish Council for Civil Liberties.
The document in 44 pages covers areas such as The Constitution and the Rights it Confers, Freedom of Expression, Freedom of Assembly, Freedom of Association, Trade Unionism, Arrest, Political Offices, The Rights of the Householder, The Prohibition of Forcible Entry and Occupation Act, 1971, The Mental Treatment Acts, Contempt of Court, Arrest for Debt, Extradition, Aliens and Legal Aid.
The Introduction notes that:
The purpose of this booklet is to provide the public with a. Guide to the rights of the citizen in our community. It is concerned only with the rights of citizens against the State and public authorities – and not with the rights of citizens as between themselves – for example as between employers and employees, or landlords and tenants. Although written by lawyers, it does not purport to be a legal text book or a substitute for the professional advice which should be taken in all cases of difficulty.
---