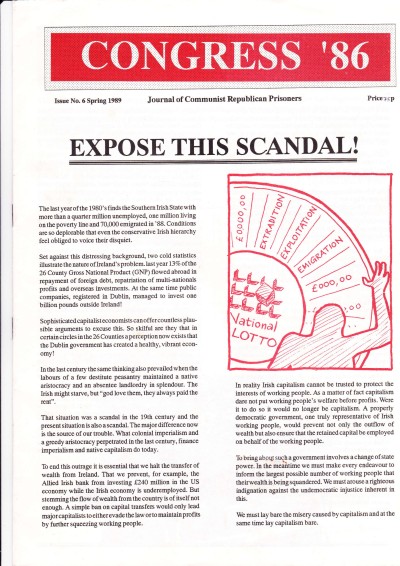 Please note:  The Irish Left Archive is provided as a non-commercial historical resource, open to all, and has reproduced this document as an accessible digital reference. Copyright remains with its original authors. If used on other sites, we would appreciate a link back and reference to The Irish Left Archive, in addition to the original creators. For re-publication, commercial, or other uses, please contact the original owners. If documents provided to The Irish Left Archive have been created for or added to other online archives, please inform us so sources can be credited.
Commentary From The Cedar Lounge Revolution
20th August 2018
This the sixth issue of Congress '86, the Journal of the League of Communist Republican Prisoners, is a sixteen page document.
As noted previously:
With the end of abstention by Sinn Féin at the 1986 Ard Fhéis there was a mass resignation of about 100 IRA prisoners in Long Kesh. Of this number a smaller group combined in November 1986 as the League of Communist Republicans. Their position was interesting since they argued that the armed campaign was of limited use at that point in time (and who better to know?) and that Sinn Féin was retreating from the left.
Issued in the Spring of 1989 it has a range of then contemporary concerns. For example there are pieces such as an ex-prisoner 'against pan-nationalism'', the Sinn Féin Ard Fheis, ''Privatisation Favours the Rich'', a report from Burma, ''Socialism or Nationalism'' and a report on how Soviet Spokesman ''expresses concern about human rights in Ulster''. Allied to this is a welcome from ''Communist Prisoners'' to the statement from the Soviets.
As always with the League of Communist Republicans and Congress '86 one of the most notable aspects is the unashamed identification with the USSR and Soviet Communism in the late 1980s.
As always it would be very useful to know more about the LCR, when it disbanded and where those involved went subsequently.
More from Congress '86
---