Background to Northern Ireland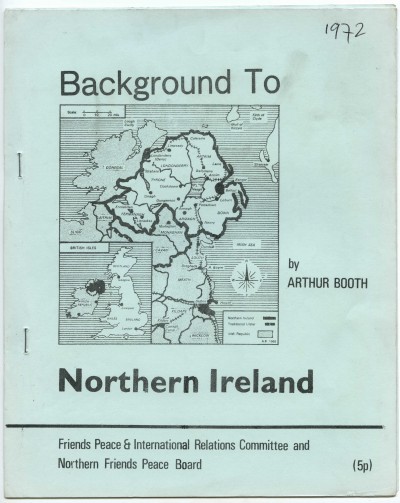 Please note:  The Irish Left Archive is provided as a non-commercial historical resource, open to all, and has reproduced this document as an accessible digital reference. Copyright remains with its original authors. If used on other sites, we would appreciate a link back and reference to The Irish Left Archive, in addition to the original creators. For re-publication, commercial, or other uses, please contact the original owners. If documents provided to The Irish Left Archive have been created for or added to other online archives, please inform us so sources can be credited.
Commentary From The Cedar Lounge Revolution
23rd July 2018
This is not precisely a left-wing document, but many thanks to the person who scanned it and forwarded it to the Archive.
Produced by the Quakers it offers an intriguing view of the conflict on the island in the North in particular during this period. In some ways it is very simplistic, as is to be expected with a short document. This following extract gives a flavour.
It asks 'Who is really responsible for the violence?'
Surprising as it may seem, this is not an easy question to answer. Certainly the IRA is responsible for a good deal of it, but not for all of it. Protestant extremists, anarchistic groups, and criminal elements from outside, taking advantage of the breakdown of law and order, may all be involved. Some of the hardest battles fought by the Army have been against Protestants, and names like Dungiven, Shankill and Newtownards come easily to mind. The IRA too is split – the Regulars, political and socialists; the Provisionals, nationalist, even fascist, more overtly violent. Both sections seek the unity of Ireland.
Nonetheless most useful as a sense of how the context shaped the perspective of those on the ground and elsewhere.
---