Workers Briefing, Summer 2000
Please note:  The Irish Left Archive is provided as a non-commercial historical resource, open to all, and has reproduced this document as an accessible digital reference. Copyright remains with its original authors. If used on other sites, we would appreciate a link back and reference to The Irish Left Archive, in addition to the original creators. For re-publication, commercial, or other uses, please contact the original owners. If documents provided to The Irish Left Archive have been created for or added to other online archives, please inform us so sources can be credited.
Commentary From The Cedar Lounge Revolution
21st May 2018
After a decade or so of posts to the Archive it is now somewhat rare to have materials from a group not already a part of the collection. But many thanks to Michael Carley for forwarding this document from Socialist Democracy, which was, as the Archive notes 'established as the successor to People's Democracy in the mid-1990s on foot of the Irish Committee for a Marxist Programme. It is affiliated to the Fourth International'.
This eight page journal dating from Summer 2000 has a wide range of articles but the lead is on the 'announcement by the IRA that a number of its arms dumps had been inspected and sealed by international inspectors'. The publication argues that this is tantamount to a 'final surrender' but that' the real surrender of their movement was a political surrender and took place long ago. For a movement whose leadership has accepted partition, the unionist veto, British occupation and the return of a Stormont parliament a few guns are nothing, all the more so when a dejected and weary base of supporters have gradually demobilised'.
And it argues that IRA militarism was a constituent element in what it characterises as 'its downfall'.
Other pieces discuss the 'myth of moderate unionism'. There's a piece by Dave Bangs 'first carried in our sister paper in Britain, Socialist Outlook'. There is a very strong welcome for the arrival in Dáil Éireann of Seamus Healy at the Tipperary South by-election. And a further deeply critical article on 'The ANC and the Irish Peace Process'.
One interesting aspect of the document is that it doesn't outline broad Socialist Democracy policies, but asks those interested to contact at its Belfast PO Box.
A most interesting document and a welcome addition to the Archive.
More from Socialist Democracy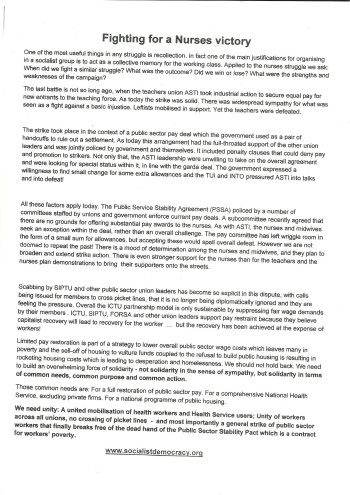 Socialist Democracy in the archive
---