Facing Up To Reality
An Irish Family Planning Association submission to the Interdepartmental Working Group on Abortion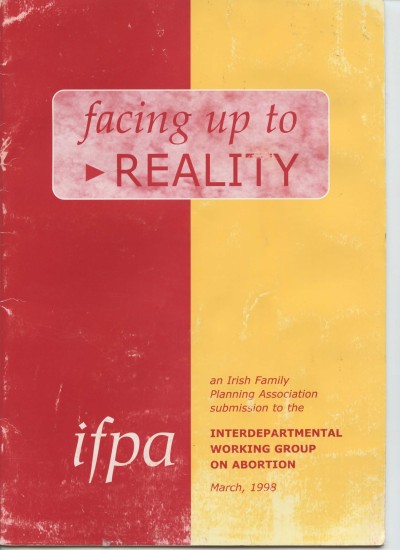 Please note:  The Irish Left Archive is provided as a non-commercial historical resource, open to all, and has reproduced this document as an accessible digital reference. Copyright remains with its original authors. If used on other sites, we would appreciate a link back and reference to The Irish Left Archive, in addition to the original creators. For re-publication, commercial, or other uses, please contact the original owners. If documents provided to The Irish Left Archive have been created for or added to other online archives, please inform us so sources can be credited.
Commentary From The Cedar Lounge Revolution
14th May 2018
Many thanks to Michael Carley for forwarding this. While the IFPA is not as such a left-wing organisation clearly for the majority of leftists the issue of abortion would be a left-wing issue. This document dating from twenty years ago is a most appropriate addition, particularly at this time, to the archive.
The foreword is still timely, arguing that:
The establishment of the working group, together with the recent publication of the Women and Crisis Pregnancy Report, present this country with a much needed opportunity to face up to and deal with the reality of Irish abortion. This is an opportunity to rise above the rhetoric of past debates, to look beyond the blinding light of 'hard cases' and the crisis mentality that they evoke and to focus on the everyday realities of Irish abortion and the health needs of the women concerned.
---