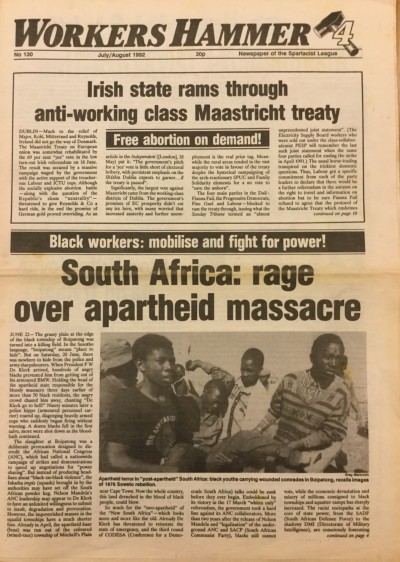 Please note:  The Irish Left Archive is provided as a non-commercial historical resource, open to all, and has reproduced this document as an accessible digital reference. Copyright remains with its original authors. If used on other sites, we would appreciate a link back and reference to The Irish Left Archive, in addition to the original creators. For re-publication, commercial, or other uses, please contact the original owners. If documents provided to The Irish Left Archive have been created for or added to other online archives, please inform us so sources can be credited.
Commentary From The Cedar Lounge Revolution
3rd April 2017
Many thanks to the person who forwarded this to the Archive.
Another document from the Spartacist League, this edition of Workers' Hammer from 1992 clearly outlines the concerns of that formation during that period. So the front page in a piece on the Maastricht Treaty which takes that latter to task as 'anti-working class' has a subheading 'Free abortion on demand!'. The rest if the page is taken up by a report on attacks by security forces in South Africa against anti-apartheid protestors.
Inside there's part of an exchange between the Spartacist League and the Revolutoinary Internatinoal league (Britsih section of the International Trotskyist Committee). A full page is devoted to a critique of Lutte Ouvriere, the French organisation, depicting it as 'anti-gay, anti-Trotskyist' and exclusionary. Other pieces address the bombing of Dresden in World War Two and labour disputes in Germany. The last page is devoted to Scotland and nationalism.
As ever with the Spartacist League the style of language is idiosyncratic. The thought strikes that this document was essentially an international one with some small sections devoted to Irish conditions.
More from Workers Hammer
---