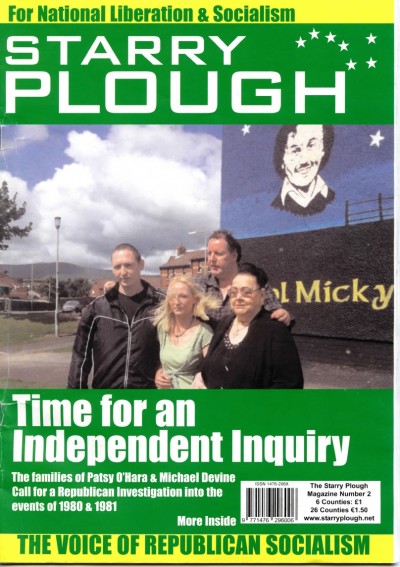 Please note:  The Irish Left Archive is provided as a non-commercial historical resource, open to all, and has reproduced this document as an accessible digital reference. Copyright remains with its original authors. If used on other sites, we would appreciate a link back and reference to The Irish Left Archive, in addition to the original creators. For re-publication, commercial, or other uses, please contact the original owners. If documents provided to The Irish Left Archive have been created for or added to other online archives, please inform us so sources can be credited.
Commentary From The Cedar Lounge Revolution
16th May 2016
This is a very useful addition to the Archive, and many thanks to "Spáilpín" for allowing us to scan materials from his collection. There are many more documents to be posted from there, including one's from groups and parties hitherto unrepresented in the Archive.
The text on the second page is particularly interesting in offering an outline of the rationale behind the Starry Plough itself. It notes that:
The SP magazine is the organ of the Irish Republican Socialist Party. The aim of this publication is to assist and develop republican socialists ideas as well ass to create debate. This is your magazine. We constantly require input from our supporters. If you can contribute articles, photos, drawing, information on potential bookshops or stockists or anything else that you feel will help this project then please get in touch with us.
It notes that:
The magazine is put together by a volunteer collective of activists and is paid for only by donations, subscriptions and sales. We have no corporate backing nor do we want any.

We aim to produce the SP in this format as a quarterly publication to provide a republican socialist perspective that's not normally covered in other papers. We welcome contributions from all our readers that will further the objectives of republican socialism. Likewise we welcome all articles that will initiate discussion.
In another piece it notes:
Since our last edition we have received many messages of support for our efforts. To those that have taken the time to contact us may we offer our thanks. This magazine would be nothing without our readers, supporters, distributors and contributors.
And in terms of the content it also notes:
This edition of the Starry Plough carries many great articles, particularly our special four page supplement on the 40th anniversary of the NICRA which is the first par tot a two part series. We also carry in depth coverage of calls for an independent inquiry into the events during the 1981 hunger strike period where it is claimed that a deal was accepted by the prisoners yet rejected by the outside leadership of the Provisionals. We have coverage of ongoing fight in Mayo against Shell oil and the upcoming Lisbon vote. If anything within this magazine inspires then please get in touch and join the debate.
The publication is well produced and as can be seen above covers a lot of ground (there are also pieces on Israel/Palestine and an interview with the Independent Workers Union. Notable too is the sheer volume of web links to 'The Movement Online' and a piece on the 'North American Section's… recent convention for 2009 in Chicago'.
More from The Starry Plough [IRSP]
The Starry Plough [IRSP] in the archive
---