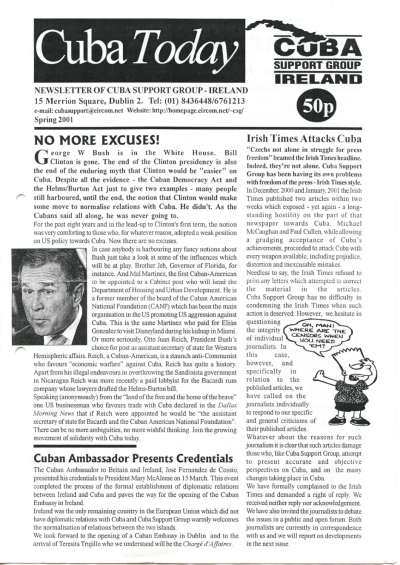 Please note:  The Irish Left Archive is provided as a non-commercial historical resource, open to all, and has reproduced this document as an accessible digital reference. Copyright remains with its original authors. If used on other sites, we would appreciate a link back and reference to The Irish Left Archive, in addition to the original creators. For re-publication, commercial, or other uses, please contact the original owners. If documents provided to The Irish Left Archive have been created for or added to other online archives, please inform us so sources can be credited.
Commentary From The Cedar Lounge Revolution
28th December 2015
Many thanks to IEL for donating this to the Archive.
This eight page A4 documents published by the Cuba Support Group Ireland covers a wide range of topics. The front page notes under the heading 'No More Excuses!' that:
The end of the Clinton presidency is also the end of the enduring myth that Clinton would be 'easier' on Cuba. Despite all the evidence – the Cuban Democracy Act and the Helms/Burton Act just to give two examples – many peoples still harboured until the end the notion that Clinton would make some move to normalise relations with Cuba. He didn't. As the Cubans said all along, he was never going to.
It warns against 'anybody harbouring any fancy notions about Bush' and argues that:
There can be no more ambiguities, no more wishful thinking. Join the growing movement of solidarity with Cuba today.
In other pieces it notes that the Cuban Ambassador to Britain and Ireland presented his credentials to President McAleese. It also notes an attack in the Irish Times on Cuba. It notes 'solidarity in action' including the despatch of Irish containers containing medical equipment to Havana.
There is a report from the 2nd World Solidarity Conference and mention is made of the then 9th successive year where the United Nations General Assembly condemned the US blockade of Cuba.
Various other pieces examine the re-election of Jean-Bertrand Aristide, and 'another attempt on Castro's Life'.
---