Irish Republican Army Statement, August 1969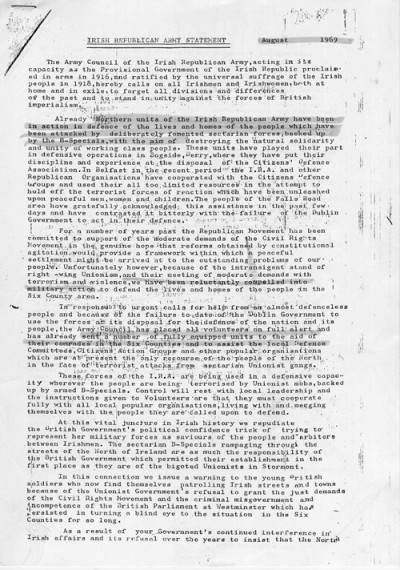 Please note:  The Irish Left Archive is provided as a non-commercial historical resource, open to all, and has reproduced this document as an accessible digital reference. Copyright remains with its original authors. If used on other sites, we would appreciate a link back and reference to The Irish Left Archive, in addition to the original creators. For re-publication, commercial, or other uses, please contact the original owners. If documents provided to The Irish Left Archive have been created for or added to other online archives, please inform us so sources can be credited.
Commentary From The Cedar Lounge Revolution
17th August 2009
A short document, signed by Cathal Goulding, that outlines the rationale the IRA was using at this point in time.
Note that it asserts that…
Already Northern units of the IRA have been in action in defence of the lives and homes of the people which have been attacked by deliberately fomented sectarian forces, backed up by the B-Specials, with the aim of destroying the natural solidarity and unity of working class people.
Note also that these actions are couched within 'defensive operations'. It is striking that it refers to 'all too limited resources'.
Beyond that it's intriguing that it overtly states that 'the Republican Movement has been committed to support the moderate demands of the CRM in the genuine hope that reforms obtained by constitutional agitation would provide a framework withing which a peaceful settlement might be arrived at…' and that 'we have been reluctantly compelled into military action'.
It also warns the London government that 'you will have to take the consequences'.
More from Sinn Féin [Pre 1970]
Sinn Féin [Pre 1970] in the archive
---