Congress 1987: Tuairisc Ó Na hOifigigh
23rd - 26th April, Northern Counties Hotel, Portrush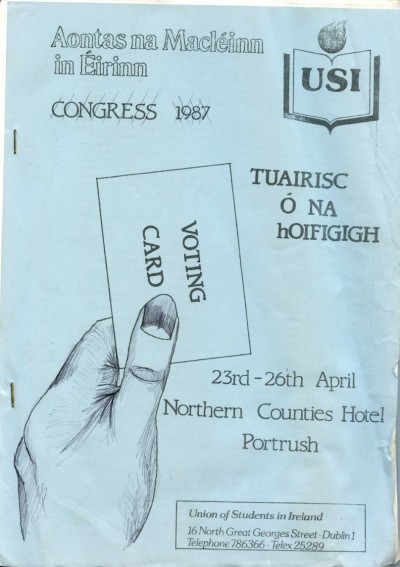 Please note:  The Irish Left Archive is provided as a non-commercial historical resource, open to all, and has reproduced this document as an accessible digital reference. Copyright remains with its original authors. If used on other sites, we would appreciate a link back and reference to The Irish Left Archive, in addition to the original creators. For re-publication, commercial, or other uses, please contact the original owners. If documents provided to The Irish Left Archive have been created for or added to other online archives, please inform us so sources can be credited.
Commentary From The Cedar Lounge Revolution
4th May 2015
Many thanks to the person who forwarded this to the Archive.
This fifty page document from USI which doubles as a voting card, or so it would seem from the front cover, is a report on the state of the organisation at that time prepared for the Congress that year. As the Introduction notes;
This report does not aim to give a detailed list of all that has taken place since last Congress. It aims to look at the major developments of the past year, pinpointing our strengths and our weaknesses, to analyse the years work making recommendations for future development.
That said it does provide a fairly comprehensive overview of the activity of the union and areas for further development. There is considerable emphasis, as might be expected on Fincane for Education, Fees/Grants campaigns, issues like Course/College Funding and Overcrowding. It complains about the way in which 'The main problem affecting our campaigning work this year was the readiness which COs appeared to have when it came to agreeing on plans for action – but the failure of many of those COs to implement agreed plans'. Other aspects of particular interest is how partial representation of SU's on college boards was during this period.
Considerable attention is given to Welfare and public provision – issues like Family Planning, AIDS, Housing, Mature Students and Disabled Students as well as Women's Rights. As well as outlining the USI National Women's Conference it also considers the role of Women's Officers, Women's Groups, International Women's Day, Abortion, Strip-Searching, Rape and Creche Facilities. National Affairs and International Affairs are also dealt with but in somewhat less detail.
A useful addition to the Archive.
More from Union of Students in Ireland
Union of Students in Ireland in the archive
---